Zeszon is a Necrofriggian. He first appears in Necrofriggians Endangered along with Raphael. He is an alien full of pride, he is seen flirting Gwen or some girls much to Kevin or Raphael's displeasure.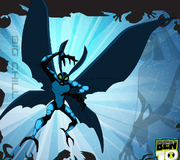 Appearance
Like Raphael, Zeszon is fifteen year old. Zeszon is a normal necrofriggian. In "In Training", he can freeze in many colors to camouflage such as pink or purple as seen, which Ben mistakes for ice cream. Also according to Black-Out, these color creams are used to annihilate stuff as seen when Black-out forces Zeszon to spit black ice onto a redwood tree. He is also able to create fire when he switched places with a Methanosian. He is seen using that ability again in So Dark.
Personality
Zeszon is a bit snobbish sometimes making Ben angry or Kevin. He mocks Ben and is very competitive. Though he is very upset around Kevin, he seems to be very protective in the series Finale, Ultimate Fate of the Earth, he saves Kevin from being crushed by Diablo's hammers. Raphael and Zeszon are best of best friends where Raphael dissolves in water to save Zeszon from Black-out.
Before Ultimate Omnitrix
As referenced, Raphael and Zeszon was part of an alien camp. They were attacked by unknown villain. -- (A Past Remnant)
Later during the war on Kylmyys, Zeszon and his parents were separated. At that time, (To be written)
Trivia
He resembles Transformer Animated Bumblebee and is voiced by the same voice actor Bumper Robinson.
The Ectonurite half is voiced by Steve Blum, the voice actor who voiced Ghostfreak.
Community content is available under
CC-BY-SA
unless otherwise noted.