Zeno
is a villain in
Ben 10: Multi Trixes.
He is an evil Gourmand.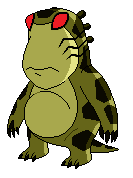 Appearance
He looks exactly like Upchuck, only with red eyes and no Omnitrix.
Story
He stole some DNA, the first of the samples being Eon and . They overwhelmed him, so he took more. When he took the Het sample, he turned into Het! He also stole Nanomech and turned into a small Nanochip swarm. The DNA stealing is a side job, so his real purpose is to serve Paparo. That is, until he quit upon realizing Paparo's ultimate goal.
Credits
Original idea and picture credits go to Weirdo Guy.
---****--- Roads
Community content is available under
CC-BY-SA
unless otherwise noted.