Yinyang is a alien in the series Simien 10. He is one of Simien 10,000's aliens. He is actually two aliens that can combine into one.
Yinyang
General Information
Species
Opueston
Home World
Kagetohi
Body
Humanoid
Powers and Abilities
Abilities
Pyrokinesis,Cryokinesis, Super strenght,Super speed,
Details
Powers
Yin's powers
Controlling fire
Very gooey
Made of lava
Super strength
Combining with Yang to create Yinyang
Yin's Weaknesses
Yang's powers
Controlling ice
Very hard
Made of ice
Super intelligence
Super speed
Combining with Yin to create Yinyang
Yang's Weaknesses
Yinyang's powers
Controlling fire
Controlling ice
Super Speed
Super strength
Super intelligence
Half hard
Half gooey
Yinyang's weaknesses
Water for one half
Fire for the other half
Species and planet
Species:Opueston
Planet:Kagetohi (actually a moon)
Appearence
Yin looks like a blob of lava with no legs (but still has arms)
Yang looks like a man made of blocks of ice
Yinyang has half of Yin's body just with a leg and is other half is Yang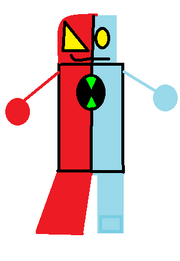 Appearences
"The Day has Come" (by Zyrokks)
Community content is available under
CC-BY-SA
unless otherwise noted.