Yami
General Information
Species
Kirlia
Age
14
Powers and Equipment
Powers
Psychokinesis
Chlorokinesis
Pokémon Info
Types
Psychic
Fairy
Ability
Synchronize
Relationships
Details
Voice Actor
Jill Harris
Yami is a character in Pokémon Sky. She first appeared in All That Glitters, Is Bright Lights of the Derwin 13 Shorts. She is a Kirlia from the Off-the-ground.
Appearance
She has long blonde hair, with the hair at the back tied up. She wears a black sleeveless shirt. She wears a red skirt and belt. She has yellow leggings.
Personality
She is very outgoing and happy. She is helpful but easily distracted. She likes making clothes with Hikari.
Powers and Abilities
She has psychokinesis and general psychic powers.
She can control plants a little; it's more of a passive thing.
Her Ability is Synchronize, which gives foes her status conditions.
Weaknesses
She can be distracted easily, as well as manipulated. However, Hikari keeps her focused.
Relationships
Friends
"
Maybe when you see into the eyes of the right girl... Sorry.
"

–Yami
Yami is often forgetful of Koumori's blindness. But most people are, considering her ability to hide it.
Love Interests
Yami and Hikari are incredibly affectionate to each other, often cuddling and snuggling.
Appearances
Trivia
Her appearance is based on Serena from Pokémon.
Her akumatized self is Light Femme.
She uses a "Magician Girl" deck. Her favorite card is "Dark Magician Girl", because it reminds her of her girlfriend.
Her alternate art is based on Daisy's from Super Smash Bros. Ultimate.
Gallery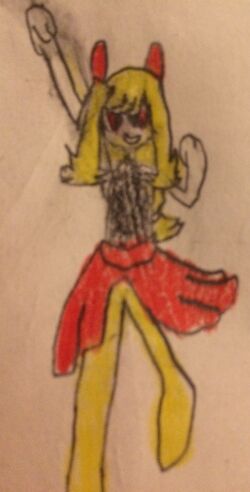 Pokémon Sky
Entries
Pokémon Light & Dark - Pokémon Magic - Pokémon Sky: Mystery Dungeon - Pokémon Mystery Dungeon: Grass Toad Team - Pokémon Sky (Show) (non-canon) - Pokémon Sky: The Movie - Pokémon Sky: The Series - Ben 10: Into the Omniverse (Movie) - Pokémon Space - Pokémon Time - Pokémon Dimensions - Pokémon Mystery Dungeon: Legend of the Hidden Mace - Pokémon Mystery Dungeon: Legend of the Hidden Blaster