XLR8 (eXtremal Lifeform Reaching 800kmh) is the DNA sample of a Kineceleran from the planet Kinet.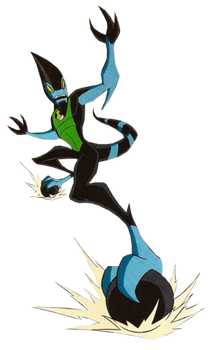 Appearence
XLR8 is drawn off Omniverse XLR8, but with a glowing visor like the reboot Omni-Enhanced version of this alien.
He looks the same, but green is changed to red.
Powers and Abilities
XLR8's main power is the ability to reach speed of 500 mph (805 kmh).
XLR8 can create a vortex using his tail. It can be strong enough to lift a Tetramand or a Vaxasaurian.
XLR8 can run on water or ice.
Weaknesses
XLR8 can be affected by its own vortex, if redirected.
Appearences
Ben
Albedo
At Azmuth's College Aliens
Community content is available under
CC-BY-SA
unless otherwise noted.