This is the version of Winston that appears on
Earth-68
, the universe owned by
Dioga beta
. He appears in the
John Smith 10
franchise and
Ryder 10
.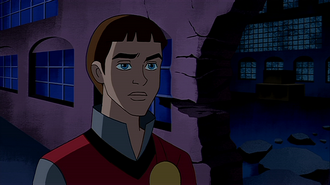 Winston appears early in the show, being a slight ally to John, Gwen and Kevin, having a crush on Gwen. He eventually follows the canon series, being controlled by the Lucubra and the Diagon. However, he survives this experience. He briefly gains the Omnitrix. It became a running gag during his first several appearances for Gwen being the only one of the main heroes to remember who he was.
Appearances
Winston appears in the Knights as before. He is in Sir Cyrus' faction of the Knights.
Ryder 10
Secondary Enemies
Bounty Hunters (Kraab, Goyle, Sixsix, Sevenseven, Eighteight, Vreedle Brothers) | Vulkanus (Crabdozer) | Seebik | Psyphon's Gang | Dr. Animo | Zs'Skayr's Followers (Viktor, Yenaldooshi, Mummy | Dr. Psychobos | Road Crew (Baron Highway, Road Rage, Fistrick, Corvo) | Spark Plug | Esoterica | Lucubra | Incurseans (Milleous, Jorgen Von Strangle)
Omnitrixes
Omnitrix | Nemetrix | Ultimatrix
Community content is available under
CC-BY-SA
unless otherwise noted.