THIS ARTICLE IS MADE BY EVFNYE!

Wildmutt is the Omnitrix's DNA sample of a Vulpimancer from the planet Vulpin.
Appearance
Wildmutt looks like an orange big dog with a short tail and two big canines. He has no eyes, and uses his smell to create a "vision" of the world. He has grey claws on each foot.
He has a gray collar with Omnitrix symbol on it.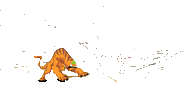 Powers and Abilities
Wildmutt has incredible senses of smell and hearing, similar to Earth canines.
Wildmutt's claws and teeth are very sharp, in addition to his natural strength.
Wildmutt can run very fast and jump quite high.
Weaknesses
Wildmutt has no functioning eyes, thus he can't detect colors.
He also can't speak in Earth languages.
History
Wildmutt was unlocked prior to Evfnye 10.
In It All Started, Wildmutt appeared in the end.
In When You Steal, Wildmutt chased some thieves and broke a gun.
In Fight in the Bathroom, Wildmutt defeated the Basilisk.
In 2040 Part 2: Evfnye 10,000, Evfnye 10,000 as Wildmutt fought Salkin.
In Memelord, Wildmutt appeared as a Doge meme that made a Dun Dun Dunnn sound effect.
In The First Hero in History, Wildmutt appeared as an accidental transformation and used to reach Mesopotamia.
In The Spirit Part 2: Shocked, Wildmutt was used twice to try to reach Ketu's underwater base. He later appeared along with all other transformations.
In Key to the Powers, Wildmutt was used once before being locked and replaced with Wildvine.
Wildmutt's DNA was used in Never Gonna Give Up to send all the Vulpimancers back into the Null Void.
Appearances
Evfnye 10,000
Trivia
Wildmutt was able to speak to Null Void Vulpimancers, proving Vulpimancers have their own language.
Like Upgrade's, Wildmutt's DNA was stored in Evfnye's HQ under severe security, before its use.