Water Hazard is the DNA sample of an Orishan from the planet Kiusana in the Andromeda Galaxy.
Its evolved form is Ultimate Water Hazard.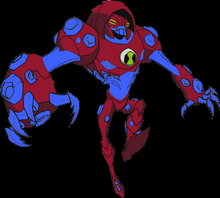 Apprentice
Water Hazard resembles its Omniverse self but with blue barnacles and water visible, similar to Overflow.
Albedo
He looks the same, but with red eyes and Ultimatrix symbol.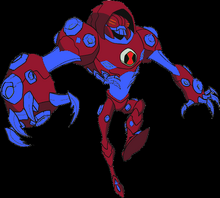 Powers and Abilities
Water Hazard has hydrokinesis, enhanced durability, strength and water breathing.
Weaknesses
Water Hazard cannot generate water in an oxygen-less ambient, because you need oxygen atoms to create water.
Appearances
Ben
Albedo
Trivia
Water Hazard was revealed to appear in an episode named "Original vs Remix", when two identical aliens were confronting each other, and Albedo then went ultimate.
At Azmuth's College Aliens