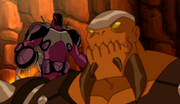 Vulcan is the home planet of the Detrovites. It is a very hot planet, apparently being over 850oF on the surface 'on a cool day'.
Description
Vulcan is an incredibly hot planet, with many volcanoes and free-flowing lava rivers. Its atmosphere is very dense, and is toxic to humans most of the time. From the outside, it looks similar to the planet Mars but far larger.
Inhabitants
Etymology
Vulcan is the name of the Roman god of flame. The Italian island Vulcano is named after Vulcan, and is in turn the root of the word 'volcano'.
Gallery
Trivia
In Star Trek, Vulcan is the homeworld of the Vulcans.