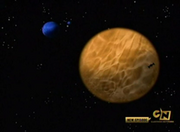 Vilgaxia is Vilgax's home planet.

Vilgaxia was first introduced in the Alien Force episode Ghost Town. Zs'Skayr, after having been freed from his jail by Vilgax, betrayed him and attacked the planet, possessing all inhabitants and turning them into Ectonurites slaves in a few weeks. After several vain attempts to stop the infestation (including alternating the planet's sun constitution so its light would weaken Ectonurites), Vilgax escaped from the planet and reluctantly asked for Ben's help. Despite their past differences, Ben accepted, and, after some complications, successfully freed the planet from Zs'Skayr's control. As an agreement between them, Ben promised to not tell anyone this had happened, and Vilgax gained credit from Vilgaxia's population for saving them from Zs'Skayr.
Vilgaxia is a planet within the Null Void Frontier. It's original name was Murray, but the name was changed in honor of Vilgax for saving the planet.
Clash of the villains contest
Battles
Zyrokks vs.

King Euclid
Vote here which villain will win in your opinion. DON'T VOTE FOR YOURSELF!
Known Vilgaxians
Appearances
Jax 10
Trivia
It was formerly called Murray.
It is located near the Null Void.