Vilgax is a villain through out all of the Ben 10 universes. In Young Plumbers, he is an agent of the Elite.
Vilgax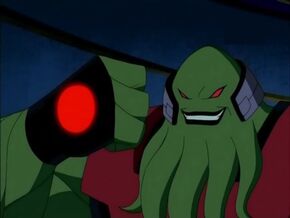 Information
Home Planet:
Vilgaxia
Species:
Chimera Sui Generis
Powers:
Super-Strength
Energy blasts
Relationships
Part in Team:
Agent
Friends:
The Elite
Enemies:
The Recruits
Appearance
Powers
Super strength
Energy blasts
Paraphernalia
Weaknesses
Has been fought so many times that it's easy to predict his fighting style and what he will try to do next
History
May 2012
Vilgax attacked the Academy with a group of soldiers. At first, he fought Ben, Aevan, and Sci, but later fought Rob, Sci, and Paper as well. He was defeated for a moment, but quickly got back up as Water punched him through several walls until they arrived in a weapons room. He prepared a bomb to detonate as he fought a bit more, but soon afterwards made a quick exit.[1]
References
References
Community content is available under
CC-BY-SA
unless otherwise noted.