This is the version of Vicktor that appears on Earth-68, the universe owned by Dioga beta. He appears in the John Smith 10 franchise and Ryder 10.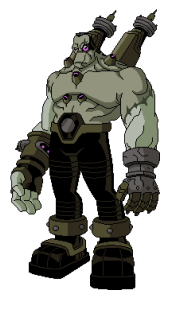 Viktor appears as Dr. Vicktor, who had gathered a group of DNAliens. However, this was a ruse to get captured and sent to the Null Void, to free his collegues Sonogram, Charles, and P'andor. He served Rob Lucci, and is eventually arrested.
He returns when he joins the New Chess Pieces.
After the incident with the Chess Pieces, he returns home to Anur Transyl, where he becomes the follower of the great Prometheus. He joins him in his fight against Lord Transyl.
Appearances
Viktor was originally a prisoner at Area 51. He is recruited to help gather the escaped prisoners, where he executed his own plans with Zs'Skayr. He continues to serve Zs'Skayr.
Appearances
Ryder 10
Secondary Enemies
Bounty Hunters (Kraab, Goyle, Sixsix, Sevenseven, Eighteight, Vreedle Brothers) | Vulkanus (Crabdozer) | Seebik | Psyphon's Gang | Dr. Animo | Zs'Skayr's Followers (Viktor, Yenaldooshi, Mummy | Dr. Psychobos | Road Crew (Baron Highway, Road Rage, Fistrick, Corvo) | Spark Plug | Esoterica | Lucubra | Incurseans (Milleous, Jorgen Von Strangle)
Omnitrixes
Omnitrix | Nemetrix | Ultimatrix
Community content is available under
CC-BY-SA
unless otherwise noted.