The opening scene begins with the silent panning shot of the exterior of a large city within the Mojave desert of Nevada, resembling Las Vegas, as it was bright, flashy, and surrounded by a seemingly endless terrain of sand and rock, all under an early midnight sky. A massive, towering sign, about 5 or so meters off the ground, was displayed with loudly-buzzing lights and brightly-painted sign near the city's entrance, and detailed in bright-red, bright-violet-purple, and bright-pink letters and lights painted and installed on, it read:
"Welcome to Jester's Bells, the home of the King & Queen Museum Expedition!"
As the shot continues to pan downwards, a gloomy, masculine figure sat at the base of it, curled up with his knees in his chest and his head down into his legs, slightly raising to take the occasional sip of a beer bottle in his right hand, eventually lifting his head up moments later to stare up at the stars. Although details were scarce in the darkness, unkempt black hair in the form of a scraggly ponytail and beard, hole-ridden, ragged, dark clothes, and loose, jarring movements confirmed the figure to most likely be a homeless drunkard.
As the shot now changes to show a zoomed side-view of the right side of his face, revealing a hazy, bright-blue eye and a face, filled with what appeared to be unconcealed hatred, but was clouded through a thick layer of intoxication.
An explosion of white light in the stars blinds the figure, prompting him to immediately get up and search after it, running into the desert.
-
The figure was suddenly startled again by a seismic shockwave that surges through the sandy ground, the feedback of something crashing into the Earth, but despite his drunken state, continued running toward the source.
-
The figure halted and stopped, his hazy, drunken eyes filled with amazement and wonder, as he is met with a spiraling beacon of red and blue light now glowing in the night-sky, emerging in the distance from the ground.
-
Now having located the source of the beacon of light, which had significantly faded, the figure approaches a massive charred crater to see a bizarre shadowy mass within the center of the ground.
-
Overwhelmed by a look of greed, signified by cartoon dollar signs in his eyes, the figure reaches toward the mass with an open wool-gloved hand.
-
Bursts of red and blue light surge from the mass, firing directly back into the fingertips of the figure's reaching arm, and like someone taking a sledgehammer to an ice statue, the figure's form seemed to cartoonishly shatter, break apart, and hover in mid-air, the skin over the figure's left arm burning away as the light ran up the figure's arm and surged into his eyes.
THE HEROES THAT WAS MOST UNEXPECTED...
The homeless figure reaches into the night sky with a metallic left arm, bursting with red and blue light, his form still shattered and eyes filled with rapidly-spiraling symbols of red and blue.
...ARE THE ONES WHO WILL SERVE THE GREATEST PURPOSE!
A slightly-aged variant of the homeless man, now having ditched his filthy appearance and taken on both an eccentric appearance with spiky black hair and a groomed goatee, but also a strange dark-purple jumpsuit, emerges from the shadows of the interior of a warehouse-like facility, his left sleeve reeled up to reveal an entirely-cybernetic left arm, patterns in the shapes of glowing double helix spirals, one red and one blue, grafted into the back of his bionic hand.
"My name is Ezekiel Elix!" A lively masculine voice narrates, his form now holding out his bionic arm. "...and almost a year ago, I was the first to discover one of hundreds of destroyed alien technology that had fallen into Earth's atmosphere and crashed into the United States' Mojave desert, in the form of a molten meteorite of alien ferrofluid!"
A series of plates suddenly retract and open up to reveal a digital screen within the cavity of his mechanical appendage's forearm, displaying a screen-like interface of several abstract silhouette-like shapes, quickly changing from left to right.
"I don't know where it came from... nobody may ever will... but I was spared from death that day..." Ezekiel speaks. "...my left arm and leg, one of my eyes, and some of my organs were gruesomely damaged... but the fluid released from the meteorite used the scraps of its metal container to rebuild my body... and grant me incredible powers!"
Clenching his bionic hand into a fist, the figure suddenly sucker-punched an approaching figure backwards several feet, expressing enhanced strength. On cue, the scrolling of the bizarre silhouetted icons halted and a piston-like button suddenly emerged from the palm of Ezekiel's robotic limb.
"It is the power to transform into 12 superpowered aliens... using the DNA samples of what I presume to be the creators whatever technology was absorbed into my body..." Ezekiel speaks. "I was an ungrateful drunk before I was affected just one year ago... and that experience opened my eyes... now I will make sure I will NEVER let any of the alien tech fall into sinister hands..."
As Ezekiel clenches his fist shut, pushing down the piston, an eruption of red and blue light emits from his bionic arm and soon consumes his entire body. Several bits and pieces of different sequences are depicted, showing the capabilities of Ezekiel's newfound alien power.
-
Cobalt-blue armor covers Ezekiel's arms, slowly emerging plate-by-plate over his forearms, slowly covering his skin from the elbow to the palms.
-
Ezekiel's hair turns white and fuzzy, as similar hair begins to grow in the form of a dense coat over much of his rapidly-darkening skin.
-
Ezekiel's feet shift, stretch, and transform into that of an anthropomorphic avian, sprouting large black sickle-like claws with serrated undersides and a pair of additional clawed toes from each of his heels.
-
"...and I will PROTECT THE CITY WHO PUT UP WITH MY ANTICS FOR SO LONG!" Ezekiel exclaims, his bright-blue right eye and a cybernetic, dark-gray left eye, its iris bright-red, glowing atop a black background, before a circular, black-lined symbol, resembling a X shape composed of a pair of twirled strands of red and blue helixes, consumes the screen. "DOUBLE HELIX, TRANSFORM!"
-
One of Ezekiel's alien transformations, briefly depicted as a figure covered in cobalt-blue armor, trades blows with another human figure, who wields a electrified gauntlet.
-
Ezekiel, his purple jumpsuit exchanged for a stylized costume akin to that of a superhero, puts on a black-rimmed, dark-purple domino mask over his face within a dark room.
-
"I WILL NOT HAVE A IMBECILE LIKE YOU DESTROY THE CREATION OF MY RENAISSANCE!" A maniacal figure, wearing a tattered lab-coat with what little is depicted, screams in Ezekiel's direction, before lobbing a giant orb of explosive green energy toward him from a silhouetted hand swinging downwards.
-
In a dark city alley-way, Ezekiel squares off with a figure identical to him, down to the casual clothing he was wearing, finally thrusting his organic foot into the imposter's face with a powerful upward kick.
-
Ezekiel's robotic arm contorts and malfunctions, pink-hued electricity shooting from the screen-like interface as the silhouetted icons warp and glitch.
-
Ezekiel catches the frame of a old-fashioned wooden cane, darkly stained, and tightly grips it with his mechanical hand until it violently shatters. Beaten and enraged, he lunges forward toward an off-screen figure, the eruption of red and blue light from his mechanical arm signifying a transformation.
-
In the middle of transforming, his body gradually shifting from right to left as red and light covers his form, Ezekiel slams his transformed fist, covered in green scales, into the asphalt ground, creating a seismic blast that obliterates the asphalt ground in-front of him.
-
The music briefly cutting out, Ezekiel, wearing his superhero attire and a pair of sunglasses, surrounded by sand, in the shadow of an umbrella, and resting on a plastic lawn-chair, nods his head to the beat of a Prince song, playing in a pair of earbuds inserted into his ears.
-
As the music abruptly returns, an eccentric Ezekiel points the index finger of his organic hand up in the air and loudly yells out, "FFFFFFFOOL! ALIEN TECHNOLOGY IS THE BEST IN THE GALAXY!"
-
Ezekiel, as a gargantuan, bio-mechanical humanoid alien with dark-red skin with the appearance of dark-red muscle fiber composing his exterior and marigold-orange metal covering sections of its body, tears one of the many glowing orb-like devices from the outer-side of his right arm and throws it forward, releasing an explosion of what appeared to be water.
-
In a pitch-black environment, a bloodied, injured Ezekiel is surrounded by a trio of menacing silhouettes, one of a monstrous, towering machine, one of a stocky figure with a glowing bright-red eye akin to Ezekiel's own cybernetic optic, and one of a muscular figure covered in dense tactical body armor and wielding two gauntlets.
As the figures slowly close in on him, Ezekiel activates the "Double Helix" device imbued into his cybernetic arm and pushes down on the piston as soon as it comes on, rapidly transforming his body and coating it in an armored layer of cobalt-blue, bright-red-highlighted armor, streams of gaseous substance emitting from ventilation grate-like openings on his scalp and shoulders.
Newly-transformed, Ezekiel activates the power of his new alien form, rapidly rotating his fists until miniature whirlwinds of wind begin to form around them. As the figures now rush forward, Ezekiel releases the contained kinetic energy at once, rapidly spiraling his body and creating a tidal-wave of intense air pressure that sends the figures flying back and for the darkness around them to rip away like a loose-fitting film, unveiling the Nevada sky and illuminating the dark area with sunlight.
Abruptly reverting back to his human form, Ezekiel points up to the exposed sky, as the view rapidly zooms out into the Nevada sky, showing twelve abstract humanoid silhouettes, all with a glowing blue right eye and glowing red left eye, surrounding Ezekiel in a pattern that forms the X shape of the previously-depicted symbol, as Ezekiel narrates, "EVIL, BEWARE! I AM THE ELIX!"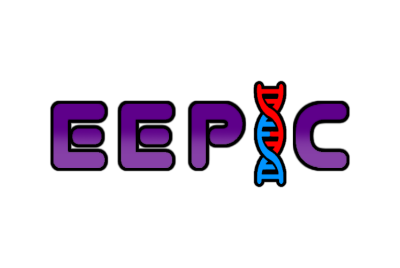 EZEKIEL ELIX: PECULIAR INSTITUTE'S CRIMEFIGHTER!
AN ALL-NEW SERIES COMING SOON TO THE BEN 10 FANFICTION WIKI!
DON'T MISS ITS GRAND RELEASE THIS MARCH WITH THE DOUBLE-LENGTH SEASON PREMIERE!
-
"LET'S DO THIS! LET'S KEEP JESTER'S BELLS SAFE!" Ezekiel narrates, fully-costumed in his previously-seen superhero attire, standing before a small group of silhouetted figures who appear to be similarly dressed.
-
AND KEEP AN EYE OUT FOR QUANTUM PARALLAX, ITS CROSSOVER WITH THREE OTHER BTFF SERIES, COMING SOMETIME THIS YEAR!
-
DON'T MISS IT. THINGS ARE GOING TO GET EEPIC.​​​​​​
-
"AW, YEAH! AWESOME!" Ezekiel triumpantly exclaims.
-
...
...
...
The dark interior of a room within an abandoned facility is barely illuminated by fluorescent lights, showing a dirty, damaged radio atop a rusty metal table, playing a fragment of a heavily-distorted song.
"Mr. Blue, you did it right..."
"But soon comes Mr. Night creepin' over..."
"Now his hand is on your shoulder..."
"Never mind I'll remember you this..."
"I'll remember you this..."
As the music plays, a bizarre silhouette begins to manifest in the darkness, seemingly floating directly above the radio. A couple seconds of his presence visible later, what appears to be metallic tubes and robotic factory limbs branch off from his backside. Clawed, mechanical arms dangle downwards from the figure's deranged body, the only thing visible in the light beyond the radio.
As the music seems to abruptly begin to fade out, missing the final word, the radio finally dies and grows silent, followed by the abrupt buzzing and de-activation of the lights illuminating the radio, leaving the setting entirely pitch-black.
"I'll remember you... this way..."
A deep, raspy voice emits from the darkness, both repeating and finishing the final line of the song's snippet, followed by a hoarse, gasping chuckle, and the whirring of machinery.
-
BEWARE MR. NIGHT AND HIS SKY-BLACK HANDS.
-
A secondary, maniacal chuckle echoes through the darkness.
Community content is available under
CC-BY-SA
unless otherwise noted.