As 2019 is now over, it's time to reflect on the Year of Modernization. Overall, the wiki was sort of revived from its semi-barren state. 2019 saw the return of several old users, the introduction of many new ones, the release of a good amount of content from users and of course, the wiki's 10th anniversary! Let's go into detail about what happened last year.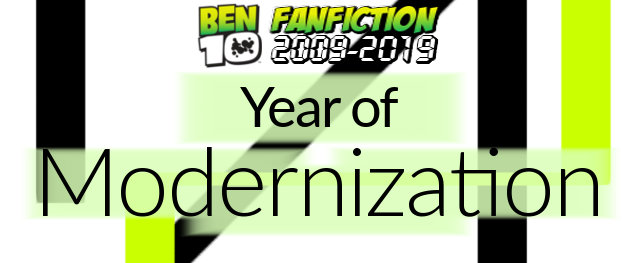 ---
User-Related Events
User Creations
All episodes of Project Deca premiered over the course of the first 11 months of the year.
Wiki Events
---
While fixing the wiki as-is is important, it is equally important to make way for the future. Therefore, we would like to formally introduce:

During the Year of Progress, we will focus on making the wiki more accessible to newcomers and highlighting the wiki's biggest strength (and arguably the main reason it's still alive), its community.
Here's some of what we plan to do during the Year of Progress:
Make a curated section of active projects on the home page for new users to check out.
Advertise unique community creations and features such as free-use aliens.
Create a committee dedicated to helping new users out with their projects by offering feedback.

The committee members will have unique colors on the wiki and will be given a role on the wiki's server.

Post semi-regular updates about the Year of Progress to review goals that have been achieved and events that have occurred, among other things.
If you have any questions, feel free to comment below and we'll answer them to the best of our ability. Thanks for reading this blog, and we hope you have a great year ahead!