Well, what do you know? It's almost 2019! As we've done since the Year of X concept was introduced, let's see what happened on the wiki during 2018 - A Year of Renovation.

---
User-Related Events
CaT and Mig stepped down from bureaucrat.
Brandon and Shades were promoted to administrator and later, bureaucrat.
Aaron was promoted to administrator and later, bureaucrat.
Brandon, Shades and Ulti stepped down from bureaucrat.
CaT and Ulti were promoted to bureaucrat.
User Creations
Wiki Events
2018 - A Year of Renovation was introduced, focused on updating the wiki to fit modern standards.
Planet Chaturn, Wikia's official chatroom for the wiki, was disabled.
The wiki's official Discord server began following the TV-MA blacklist instead of the general one.
Alien Fest became a two-week seasonal event instead of a one-week bi-annual one.
Eye Guy Fest, Brainstorm Fest, Overflow Fest and Ghostfreak Fest occurred.
Chain of Gifts 5 and 6 occurred.
BTFF EX was deleted.
Overall Writing for Fanon Con was replaced with the Character Creation Contest.
The Omniverse Awards for 2018 were held.
Spooktober Horror Contest 3: Cold Case 411 was announced but was canceled due to lack of participants.
The wiki received a visual overhaul. Recent Activity in particular was given a noticeable 'oomph'.
Various Project pages were updated, including but not limited to Wiki Events and the Record Book.
Redundant Project pages were deleted, such as 'Project:Halloween'.
The wiki's welcome message to new users was updated.
As usual, cleanup was consistently good throughout the year.
---
Although we did make major strides in updating pages important to the wiki, aside from the many changes to the Community Team, I feel like this year was mostly stagnant for the wiki, which is why the next Year of X is sort of an extension of the Year of Renovation. Get ready for 2019 - A Year of Modernization!
---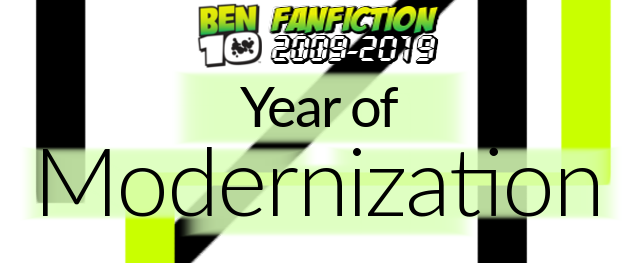 The Year of Modernization, like the Year of Renovation, will be mostly focused on updating the wiki's many guides and doing more cleanup. The wiki turns 10 years old next year, so we really want to make the wiki the best version of itself so we have a lot more to look back on come November. As with previous years, we urge you to help with cleanup, either by fixing up bad grammar on pages or marking stubs. We hope you've had a good 2018, and here's to a better year ahead!
Community content is available under
CC-BY-SA
unless otherwise noted.