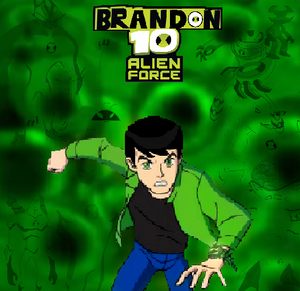 Ello everyone. Brandon here with a special blog post this time. As some of you may know, I have started my well known series,
Brandon 10: Alien Force
, on this very day, June 10th, about two years ago. To celebrate this amazing day, I will be uploading multiple items similar to
Brandon 10's Anniversary Week
. I will then be concluding the anniversary party with a Top 10 Special. Here's how the day will go:
Uploading Images
I will post exclusive pictures of characters and aliens from the series and for episodes without images.
Alien Drafts
There will also be releases of drafts for aliens in the series and Behind the Scenes looks.
Online Game
I will be releasing a new online game for the series based on the final events. Warning: Not Playable.
DVD Releases
I will then create a DVD Page for the final season of the series with cool cover art.
Comic Sneak Peek
Despite the lack of Original Series Comics, I will be releasing an exlusive sneak peek for an AF Comic.
Hackoid Design
Since I didn't (and still don't) have animation software, I will be showing off a design of Hackoid.
Brandon 10 Books
As said earlier in Fanon Cons before, I will be making a new mini-series, Brandon 10 Books.
Awesome Poster
And what type of Brandon 10 Party doesn't have an awesome poster especially as tribute to the series.
Top 10 Special
To conclude the party, there will be a special (technically the final episode of Alien Force) to present the Top moments in the series from best heroes to coolest quotes and even epic episodes. Vote before its too late!
News
Now that the special has been released, before the party comes the end, here's some awesome news as the Ultimate 10th thing: There will be a new Brandon 10 series released later this year which will be called: Brandon 10: Ultimate Hero! :D More information will be released at Summer Fanon Con.
------------------------------------------------------------------------------------------------------------------------------------
And that's about it. Thanks for supporting the series for two years already. It's too bad the legacy had to end so quickly but all things must come to an end, right? ...Oh wait. I usually do 10 awesome things but there's only nine. That's because we're not done yet. Always save the best for last. And that final thing... will be presented on this blog after the special. However if the special is cancelled, the news will not be delivered.
But thanks again guys and gals for reading and supporting the series. It really has improved over these years and it couldn't have gotten to where it is without BTFF and its users.
Happy 2nd Birthday, Brandon 10: Alien Force! :D
Time Traveler. Inventor. Hero... Brandon 10! 15:03, June 10, 2014 (UTC)
Community content is available under
CC-BY-SA
unless otherwise noted.