Welcome to Spring Fanon Con 2019

---

Host's Opening Speech

---

To say this fanon con has been lacklustre would be an understatement: Only the new Alien Creation Contest actually ended up happening, nobody else submitted for anything else. And to cap it off, we have a single blog post: One from our good friend and top contributor Ethan!

Let's get to it!

--Admin Team, the host of Spring Fanon Con 2019!
---
Submissions
---
Ebomnitrix's Entry
[At nightfall outside Ethan's house, the entire was surrounded in a red light as a pod came crashing towards his backyard. Ethan was staring from afar. We zoom up to his face where he made an intimidated look and reached his arm for the sky. A badge came flying out of the pod and morphed onto his wrist, creating a watch-like device.]
[We zoom into an Omnitrix dial rotating from Heatblast to Wildmutt to Diamondhead to XLR8 to Four Arms to Echo Echo to Goop to Lodestar to AmpFibian to Ghoulseye. The dial slams a dark logo and it creates a bright green light surrounding the logo. The light fades, creating the E-10 logo as a white light appears below with the logo, which eventually creates the text HORIZONS. Then everything fades to black.]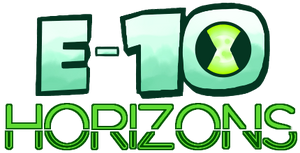 ---
Ebomnitrix: You probably know by now, but E-10: Horizons is about to reach its climax with the first season. We may be behind on some of our art and pages, but we plan to catch everything up with the show before the end of June. But don't worry! We're still going to keep you posted with epic surprises and big character reveals all month round!
Ebomnitrix: I'd also like to celebrate by announcing E-10: Horizons officially turns 1 years old. Now some of you may be confused because, EBO, why is the show one year old when the series has came out in June? Well, E-10: Horizons had officially started production since March, and while our next Fanon Con will be the anniversary of releasing the series to the world-wide-net, I had officialled kicked off this project one year ago. And thanks to all the love and support for this project, I've able to come so far as both a writer, and an artist. This'll officially be my second completed first season, and will be the first series to go beyond its first season. I'd like to thank you all so much for allowing to have come so far, Please stay tuned for more, as there are still dozens of surprises in store for you.
Ebomnitrix: But, before I talk about anything further, here's our official trailer for our five part special event. "Spirited Away"
---
Hex (Thoughts): This boy is more powerful than I originally thought. It seems I underestimated him. Before I bested him so easily. I believed this would have been easier, so I held back. But even so, he's succeeded my expectations. What is it about this boy?
[As Hex spoke, he remembered Ethan using Four Arms to defeat his Rock Monsters, he then remembered AmpFibian being thrown back by Hex. We cut to Hex remembering Ghoulseye unleashing his "Slimy Sinister Arrow Blitz" attack at him until it created an explosion. We cut to Hex inside his lair as he took deep breaths.]
Hex: That watch is far more powerful than I've ever anticipated. No… that…
[We zoomed into Hex's lips as he began to say…]
Hex: Omnitrix…
-
Ethan: What can I say, just another win for the magnificent E-10!
[Nikki, the Agent, and Hannibal's parents gave Ethan a nasty look.]
Ethan: And friends...
[Everything faded to black as both logos appeared.]


[We cut the front of the campus as we passed by a sign that said "Horizon Arts & Culture" which was mounted in front of the entrance. Meanwhile, Terence approached Ethan and Nikki with his phone.]
Terence: Get a load of this. [Shows phone] Mount Serautu, one of the most beautiful and mysterious mountains out in Southwest. It's just 2 hours from Merridale. Up there, there is a rare and delicate flower called Silene periodicum.
Nikki: So what, you just hike up the mountain until you find the flower?
Terence: Uh-huh.
Ethan: Mind if I come?
Terence: Well, I guess you can.
Nikki: You guys have fun, then.
Ethan: Actually I think you should come too.
Nikki: But, Ethan!
[Ethan turns to Nikki in private.]
Ethan: Trust me, this is the sort of thing you need to take your mind off Hannibal.
-
[As Ethan spoke, we flashback to Nikki standing in front of Hannibal in a hallway, as she turned away with a concerned look on her face.]
-
[We cut to Alice and Nikki walking next to each other in a shopping mall.]
Alice: [Sigh] It's just, I've been at Horizon for almost a year now, and after everything I've been through this year, I still haven't figured out what I've wanted to with my life.
Nikki: You'll figure it out, Alice. Everybody does. Don't stress about it too much.
Alice: Yeah I know.
-
Alice (Narrating): But when I look at you guys and my other friends, you seem to have everything figured out. Like any problem that comes at you, it's like nothing to you.
Scene: [Ethan, Terence and Nikki found themselves in a pink meadow of flowers.]
Scene: [We flashback to Hannibal accepting his trophy at the Horizons Mechanic EXPO.]
-
Nikki: That's not entirely true…
-
[We cut to Hannibal and Nikki having their conversation in the hallway.]
Nikki: It's just, I don't wanna lose somebody who's been so close to me in my life.
Hannibal: But you're not going to lose me, Nikki.
Nikki: How are you so sure about that?
Hannibal: Because I know if we give it a try, it's really going to work out.
[Nikki hesitated.]
-
[We cut to Ethan as he raised up his fist and stared at his watch.]
Ethan: If I hadn't found this, I don't know what would've happened to me.
-
[We cut to inside Hex's lair as laid down his artifacts nearby his candles.]
Hex: The Colossal Stone, The Staffs of Vibrius and Agniacius, and soon to be in my possession, The Sabortooth Relic of Imperium, After spending weeks of obtaining these artifacts, I nearly have everything I need to assemble the ultimate weapon.
-
[We cut to Hannibal interrupting Hex, as Ethan, Terence, Alice and Nikki looked over Hannibal's shoulder, as Hannibal read through Hex's book.]
Hannibal: The Ergaleío of Despair. Once put together, it can reshape living matter, control the living, but most importantly, be able to summon and manipulate the spirits of the dead.
Terence (Narrating): So wait, it can summon spirits?
-
[We cut to Hex holding the weapon in the air, as spirits began to be risen in the air.]
-
[Ethan prepared to walk up toward the exit.]
Ethan: We can't let Hex go after this!
[Hannibal, Terence and Nikki gasped.]
Alice: Wait a minute, Ethan!
Nikki: I think you need to see this!
[Ethan turned back over and his eyes widened. The page revealed a figure looking similar to Ghoulseye.]
Terence: Wait, is that… Ghoulseye?!
Nikki: [Facepalms] None of this makes any sense.
-
Hex (Narrating): Clearly you haven't understood that the more you bring your friends to these fights, the more danger you put them in.
-
[Alice, Hannibal, Terence and Nikki were lifted into the air and were flown together into an energy cage, which it eventually sealed itself up.]
-
Hex: I'll give you one last chance. Surrender yourself to me, and this will all be over.
[Ethan began to sweat as he took a look at the Omnitrix. The scene faded to black]
-
Ethan (Narrating): I'm sorry guys, but this is the only way for me to win.
[As Spiky Seeds played, Ethan slammed down on the Omnitrix as a green light blinded the screen.]
-
Ethan (Narrating): Even if Alice, Terence, Hannibal, Nikki hate me… I care a great deal about them! And if you think for one second I'm just going to let you come in and take everything away from me, then I'm not about to let that happen. I can't lose now!
(Scene 1): [Ethan turned over to see Terence, Hannibal and Nikki were setting up their weapons, ignoring him. Meanwhile, Alice was on her phone, also ignoring him.]
(Scene 2): [Alice jumped into Ethan's arms and hugged him tight.]
(Scene 3): [Hex threw Ethan back as he went flying back into the side of the building.]
(Scene 4): [An injured Ethan struggled as he attempted to stand back up.]
-
Ethan: I can't lose now!
[Ethan raised his arm up and stood his leg back.]
-
[Hex grabbed onto the Omnitrix symbol and red aura and electricity began surrounding both Ethan and Hex.]
E-10: HORIZONS, SPIRITED AWAY! A FIVE PART SPECIAL EVENT
BEGINS TONIGHT WITH AN ALL NEW EPISODE, FOLLOWED BY NEW EPISODE EVERY FRIDAY IN APRIL! ON BEN10FANFICTION AND WATTPAD!
AND STAY TUNED FOR THE SPECIAL DISCORD PRESENTATION, TONIGHT AT 9PM EASTERN!
---
Ebomnitrix: I bet you didn't expect me to be back here, but uh, E-10: Horizons: Spirited Away! We're releasing every Friday in April! We will be airing episodes back to back every week, which will gear up to the two part finale, Spirited Away, which like the series premiere will air both parts on April 26.
So what is Spirited Away about?
Ebomnitrix: Spirited Away, is about these characters finding themselves, challenging themselves to the greater unknown, to help our cast truly figure out what they really want from life. Whether its to achieve a life goal, to figure out what you wanna do with life, or to tell confess your feelings to someone and tell them how much you love them.
Ebomnitrix: It will also tie into our two parter which funny enough is titled, Spirited Away. Spirited Away ties everything you've known about the world of Horizons together, when the gang takes their last stand against Hex. Hex's next plan is to create a weapon with the help of Ghoulseye's abilities, but with great power comes at great cost. I can't give you anymore details about that going forward, but it's definitely not anything you're expecting. But I promise, everything you fans have been wanting, will be paid off, I promise.
Ebomnitrix: Anyway that is all I have to give you for tonight. Enjoy the rest of Fanon Con, and I will see you all tonight, with a poster to present. Until next time, stay gold ;)
Poll
What do you think of the first 10 episodes so far?
Are you ready for the five-part special event?
Which characters are you excited to see and develop the most?
What are you excited to see for the remainder of this season?
Which recurring characters would you like to see more of?
Which alien are you excited to see show off in the Spirited Away event?
Community content is available under
CC-BY-SA
unless otherwise noted.