Birthday Celebrations
2013
It all started on the night of July 2. I was editing, then I made a blog about my birthday. I went on chat, and soon, users wished me many times. :D Figy, Ermac, Echo and Brandon were the first guests to my party. I was extremely happy. After editing some more, I stopped and celebrated my birthday at a restaurant. When I looked at my notifications hours later, they were all filled with wishes and presents! I just want to say thank you to each and every one of you for being there for me. :D Thank you!
Presents
Anti-Gravity Hoverboard (Brandon)
Polymorph crown (Echo)
Pet (Echo)
Planet (Echo)
Polymorph assistant (Echo)
Plumber ship (BOXT)
Omnitrix (BTF3)
Chemistry set (Tyran)
Polymorph sword (Reo)
Web-shooter (Max)
SHIELD jetpack (Max)
Costume (Max)
Being part of DTUV (HF)
Tribute pictures (Toon, Ermac, Ultra, BTF3, Ls, Max, Echo, Ahmad and Iron)
Tachyon Cannon (Swampfire)
Anubian Baskurr-Vulpimancer hybrid (Swampfire)
2014
On the morning of July 2, I made a blog announcing my party, among other stuff. Ahmad, Steve and Shades were the first people to be on during my party. Like the year before, I got birthday wishes, presents, and lots of other stuff. Thank you, guys! :D
Presents
Transformers action figure (Street)
Hoverboard (Street)
Rock monster (Street)
Omnitrix (Street)
Tribute pictures (Sci, Ahmad, Reo and Louay)
UltiShip (Dragon)
Polymorph College (Louay)
Galactic Palace (Louay)
2015
On the morning of July 2, I made a blog announcing my party. I held a party on my wiki, which was attended by Sif, Yopo, TJ and Ahmad. I would like to thank everyone for wishing me a happy birthday, and Sif in particular for making my party a success. :D
Presents
New profile picture (Ahmad)
2016
On the morning of July 2, I made a blog announcing my party. It was held at 10 PM (July 2) until around 12 AM (July 3) on Superheroes Fan Base Wiki chat. It had the biggest number of guests I've had for a wiki party, more than 10. It was one of the best days I've had on Wikia. Thanks, guys! :D
Presents
Tribute picture (Rob)
New profile picture (Ahmad)
2017
On the morning of July 1, I made a blog announcing my party. It was supposed to be held at 10 PM (July 2) until 12 AM (July 3) on Superheroes Fan Base Wiki chat. Unfortunately, the party was ultimately a failure as only Bat and Steve showed up, and left a while later.
Presents
2018
On the morning of July 2, I made a blog announcing my party. It was held on my Discord server, Viscosia, at 10 PM EST. The party turned out to be great as about 15 people showed up, with even more joining the server after the party. Thank you to those of you who showed up. You made my day! :)
Presents
Tribute pictures (Steve, CaT and Toon)
Slow Hands' official art (Echo)
Promotions
Chat Moderator
This is the story of how I became a chatmod. Okay, so on the April 5, 2013, I came on chat. Speedy instantly congratulated me. I was confused, and she told me to look at my name. It had a star. I burst out in happiness. Everyone (literally everyone) congratulated me. Sub revealed that he promoted me (I owe you a billion, Sub!). I thanked him a ton, then Paper linked us to his wiki's chat, for chatmods and admins only. My first meeting! So, with that story, I promise, I'm here for you whenever you need me. :D
Administrator
It started on the admins' discussion thread for January 2015. Following Lego's demotion, they were nominating possible candidates. I gained almost all the votes, and Sci left a message on my wall saying I got demoted from my chatmod status. I thought it was because I wasn't doing well enough, but as I scrolled downwards, Sci revealed he had promoted me to admin! :D I'd like to thank Sci and the admins for your votes and for considering me as a possible candidate. I will now do as much as I can to improve the wiki's standards, more than I have tried before.
The First 'Big Thing' Involving Me
Well, it all started on June 9, 2013 Skunk told Dioga that he was eight. I wanted to prevent him from being banned from an admin, so I confronted him and advised him to revert to an anon. He said that I wasn't the boss of him (which I'm not), and Lego said that it was Wikia's rules. He begged us to let him stay. I felt sorry for him, but Lego said sooner or later an admin would find the thread. Skunk agreed to revert to an anon, but minutes later he came on chat. I asked him why he was still using his account, and he told me to drop it. Lego told Cyber (who was on chat at the time) the whole story. Skunk started calling me names, which made me feel hated.
Eventually, things got out of hand, so I told Sub everything, with Lego and Cyber giving details as well. He said he'd back off, but he returned to chat the next day, and said that his brother was previously using his account. No one believed him, so I told that to Sub too. The next day (or the day after that), I told Duncan to help us solve this. He told Skunk to revert to an anon, which he said yes, but he didn't. When I told Jon, he decided to let him stay. :D A few days after that, Sub returned and banned him and his sock account.
Now, the reason I posted this story is not because I want to be seen as a 'big shot' or for you to pity me, but it's because I want to say that if I ever report anyone to an admin, it's for the better, not because I want to gain fame or to take you down.
The Second 'Big Thing' Involving Me
It started on January 1, 2014. A user named FuzzyBlanket21 came on chat. Note that this wasn't his first day. Anyway, we (users on chat) were doing the usual, you know, talking and stuff, when I decided to check Fuzz's userpage, and it looked almost exactly like Skunk's, now known as Chris Otto.
I asked Fuzz why his userpage was the same, and then Speedy also started questioning. Dark thought it was a coincidence, until Speedy linked this event to an event days prior, about Fuzz asking about Chris Otto. Fuzz kept asking us to drop the subject and denied he was Chris Otto, but Speedy wasn't giving up. I then told Lego after things went out of hand, who said he had his suspicions about Fuzz.
Eventually, Sci knew about this and said that his fate will be decided after the 18th of January, the admin meeting. After the meeting, Sci blocked him.
Note: Many big things have happened to me since then, but seeing as how a lot of them have left bad memories, I have chosen not to record them.
Wikia Family Tree
I'm part of a Wikia family! It all started on the November 4, 2013. I was talking about Mud is Thicker than Water and Omi said "I'll watch it, son." and 'revealed' he was my father. Sci then told Omi he was his mother, making him my grandmother. Soon, well...it expanded.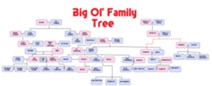 Users Part of the Tree
Founding Members
Expanding Members
Community content is available under
CC-BY-SA
unless otherwise noted.