"Rise, UltiVerse of Viscosia, the Peacekeeper."
- Ahmad15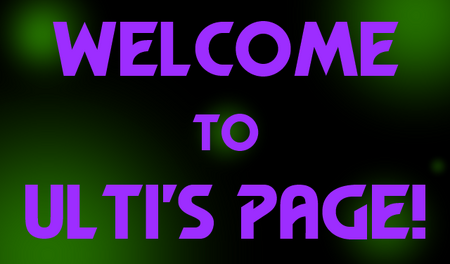 Credit to Cyber
Welcome to Viscosia, BTFF! :D My name is Ulti. I'm a veteran user who has been on the wiki since April 22, 2012 as an anonymous user, and September 7, 2012 as a registered user. I've made many projects on the wiki in the past, but I'm currently focusing on those taking place on Earth-50. As a bureaucrat, I regularly perform cleanup on the wiki, and, if you couldn't tell by now, my favorite Omnitrix alien is Goop and my favorite color is purple. My userpage is full of information about me, so go ahead and take a look to know more about me! If by any chance you need my help or just want to ask me a few questions, please don't hesitate to do so. Anyway, see you around!
Suggestions
So, after you've scoured everything on my page, do you have any suggestions as to what I can do to improve my userpage? Please feel free to list them below. Don't forget your signature. ;)
Alright, I'll shoot:

Put Ahmad's quote into a Quote template and Center it.
Put in line dividers between the top image, the quote, your main page's description, and your tabs.
There are five things in the way of the actual userpage. Four OV awards and a banner, try moving the awards to a subpage. - Aaron [DONE]