This user no longer uses this account. To contact them, please go to User:SpeedyTARDIS, the user's new account.
About Speedy
Hello I am Speedywoman: from Da as Speedygal, Wattpad as Speedy__Girl, Ben10toys.net. as Speedygal:3
I started writing in 2009,a week before Valentines day on February. I remember this because I made a BeeXSari fanfic on a brochure like paper and soon after that I went into a writing spree of Transformer Animated Stories.
I definetly know I started drawing on the second week of January during 2009 since this is when I first joined Da under the username Speedywomen (Yes, I had three e's). In 2011 or 2010, I definitely tried to draw a blue version of Four arms and my not-so-good proportions was terrible(in my eyes). So a few aliens came out of this creation with Anna and Cassie during Halloween:
Shark Dog(Fins at the time)
Ladyarms (Blue kimono with yellow eyes and the Omnitrix on the shoulder)
Screwhedge.
OilSpill, the forgotten one.
The idea of a water version of Heatblast.
True to my nickname; I talk,write,and draw fast.
I am a silly,bright, and happy-go-lucky girl so I laugh at myself after realizing something that I had mistakened or misinterpeted.This humor is fairly awesome and epic for a girl like me. Why? Cause I am just that awesome.  I have also inspired other people  to write series, create a character, or create something great.
Warning: When you roleplay with me, you open a door to a million possiblities to getting a bunch of readers and developing a world that people may enjoy reading.
Favorite Universe to Roleplay in: Shattered Glass.
Series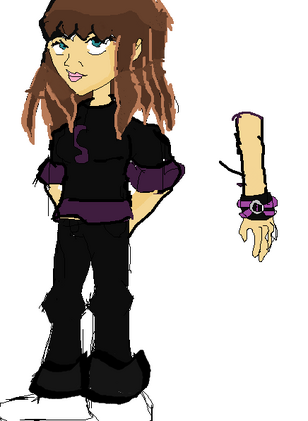 2.Peter 14
Trolls
This is mainly for trolls she hates, in her own opinion.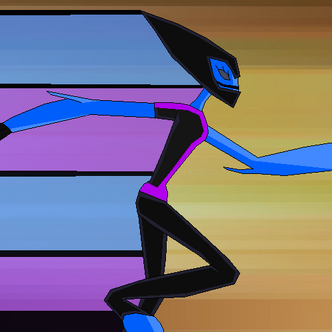 1. Mark The Alien -Seriously, using my avatar lost a potential friend for you.
2. Shamrock11 -Going around posting stuff such as 'lame' 'superlame' and finally 'gross' on Ladyarms as an Anon! >DX.
3. Survive -Puting your life history on another page is wrong. Lame.Disgraceful. I will NOT be your friend.
4.Coop -What else can be said? You want all the series to have the same 10 aliens from Ben 10. -.-
5.Gauravbarai -Impostering Brianstalkinghim,extreme stalker/Troll. Why must I post reasons? Cause I want to :3

6. YJ -You have ruined the face of Anons and New users, now it is just plain getting old. Seriously. Stop ruining that image so we can't just accuse a new user of being you. -.-

7. Shaf - You have literletly made the face of new users completely bad, your sockpuppets make us ASK every.single.new.USER.if they are freaking you! YOU have done much more than cuss, create sockpuppets, and lie. You could be a kind user but not you've chosen the path of a troll. A troll who made the decison making of 15 edits to be reached in order to be on Chat via newbies. YOU well kinda made history. aside to that. Okay I better stop writing my rant here.
THE IMPOSSIBLE number 8. LW-....I despise you. The only reason why you are fragging on here is because you insulted me, I'm  not a male, and fragging not gahey. Try to uderstand the word beside the '.' and unscramble it.  You...won't ever become my friend. not ever. Not. ever.ever. in your dreams. Your hurt my feelings.  Maybe my friendlyness is a little bit too neccassary for newbies. Whever happens, this is your own war and I won't forgive you anytime soon!
Friends

1.Zon
2.Sub
3. Trout
4.fijy8ort
5.Brian
6.Ahmad15
7.Toon
8.Paper
9.Loxx
11. Sci
12. Mig
13.Dawn
14. Ren
15. Baku
16.Gurl
17.
18. RG
19. Plasma
20. Rigger
21. Tennant
22. Season
23. Alice
24. Puck
25. Brandon
26. Tron
27. Tyran
28.
29.  Jason
30. Scarlet
31. Stew
32. Nick
33. Maxi Loo
34. Gwen
35.Flame
Author of
Haunting on Malbury Street.
My own reminder if chat hacks are off

importScriptPage('User:Speedywoman/global.js', 'c' ); by Pressing CRL SHIFT K and see the blinking bar. Then I must copy it into the bar :3 EVERY SINGLE TIME! :D