Upgrade
General Information
Species
Galvanic Mechamorph
Home World
Galvan B
DNA source
Unknown
Body
Humanoid
Ultimate Form
None
Omni-Enhanced Form
None
Alternate Counterparts
Unknown
Powers and Abilities
Abilities
Technokinesis
Technopathy
Tech Mimicry
Tech Possession
Tech Enhancement
Tech Repairment
Optic Beam
Regeneration
Shapeshifting
Size Alteration
Elasticity
Space Survivability
Enhanced Strength
Enhanced Durability
Enhanced Agility
Enhanced Flexibility
Details
Voice Actor
Dante Basco
First Appearance
TBD
Upgrade is the Omnitrix's DNA sample of a Galvanic Mechamorph from the planet of Galvan Prime's moon Galvan B in Puzzle Piece.
Appearance
Upgrade has a black body and a white clothing like material that is part of him. His fingers are white as well. He has green circuitry all over most of his body. The Omnitrix is placed in the center of his chest.
Transformation Sequence
-TBD
Powers and Abilities
Upgrade is made of a liquid like material that can shape itself to fit the situation required. He also can enhance machinery to no known limit. This allows the machine to be more combat worth and allow him to defend himself. He can also shoot optical blasts by energizing his blood.
Weaknesses
Upgrade is weak to electricity being made of living metal. As well as,magnetic fields. If he is pulled hard enough it can harm him. Upgrade can also get affected by technorganic viruses. He also weak against acid.
History
TBD
Appearances
Etymology
Trivia
Upgrade's design is a mixture of reboot and original series.
Gallery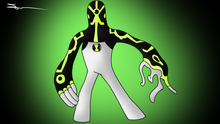 Community content is available under
CC-BY-SA
unless otherwise noted.