THIS ARTICLE IS MADE BY EVFNYE!

Upgrade is the Omnitrix's DNA sample of a Galvanic Mechamorph from Galvan Prime's moon, Galvan B.
Appearance
Upgrade has a white body with blue circuits and one eye. His arms are not proportionally long. The Omnitrix symbol is located on his chest.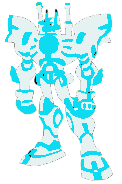 Powers and Abilities
Upgrade is a techno-organic virus, and he can manipulate technology by merging with it. Upgrade is elastic and can turn liquid.
He can shoot a laser from his eye.
Upgrade can survive in space. [1]
Upgrade can separate a piece of himself, which can be later used to upgrade other Omnitrix aliens. Evfnye 10,000 has done this with Big Chill, while Evfnye used the DNA of Upgrade to enhance Ghostfreak.
Weaknesses
Upgrade is vulnerable to electricity. Also, he can't completely control cybers and androids, due to them being part-organic.
Salkin's spikes dealt damage to Upgrade.
History
Upgrade was unlocked prior to Evfnye 10.
In 2040 Part 1: Past the Future, Upgrade time-travelled.
In 2040 Part 2: Evfnye 10,000, Upgrade enhanced the Lightspeed Collider, but Salkin's spikes led to the destruction and explosion of the collider.
In Memelord, Upgrade tried to fix his computer, but got sucked in instead.
In Gamma Ray, Upgrade upgraded a broken satellite twice to be able to move in space.
In Do Not Answer Wrong, Upgrade returned from space, but time-outed.
In The Spirit Part 2: Shocked, Upgrade was used to try to reach Ketu's underwater base. He later appeared along all other transformations.
In Key to the Powers, Upgrade was used once before being locked and replaced with Cannonbolt.
In Man on the Moon, Evfnye 10,000 separated a piece of Upgrade from himself and made Evfnye merge this with Big Chill.
In 420, Upgrade's DNA leftover fused with Ghostfreak, which enhanced the latter.
Appearances
Evfnye 10,000
References
Trivia
This Upgrade is also called "Blue Upgrade", like Retaliator.
Community content is available under
CC-BY-SA
unless otherwise noted.