This is the version of Upgrade that appears on Earth-68, the universe owned by Dioga beta. Upgrade is the Omnitrix's DNA sample of a Galvanic Mechamorph from Galvan B.
Upgrade (Earth-68)
General Information
Species
Galvanic Mechamorph
Home World
Galvan B
Body
Technological Humanoid
Powers and Abilities
Abilities
Technopathy
Technological Mimicry
Technological Possession
Technology Enhancement
Optic Laser
Regeneration
Shapeshifting
Elasticity
Enhanced Strength
Space Survivability
Details
First Appearance
And Then There Were Ten (John Smith 10)
Appearance
Upgrade has a black exterior with green stripes that resemble circuitry all over him. The green circle on his head is his eye, which glows whenever he talks. The Omnitrix symbol is on his stomach.
In John Smith 10, he appears as he does in UAF, until Omniverse, where he gains his Omniverse appearance.
In Ryder 10, he has his Omniverse appearance except the Omnitrixy symbol is on his chest.
For the Dimension 23 appearance, check below at Metal Man.
Powers and Abilities
Same as canon Upgrade. He can also transform into Battleship mode in John Smith 10, and a Motorcycle in Ryder 10.
Weaknesses
Same as canon Upgrade.
Upgrade appears as one of John's original 10. He is typically used to destroy robots he's merged with, and also can transform into the Forever Knights' battleship.
By John
By Ultimate John
By John
Smith 10 and John 15, Part 2

 (first re-appearance) 
By John
By John
Dimension 13 (John Smith 10: Kingdom Hearts)
This is the version of Upgrade that is used by characters in the Kingdom Hearts dimension.
Upgrade first appears as a red materia of Driscoll, being summoned to fight the heroes.
Appearances
Summoned by Driscoll
By John
Upgrade is one of Ryder's original 10. He has the Omnitrix symbol on his chest instead of on his eye. He can merge with Ryder's motorcycle to give it upgrades, and can turn into a motorcycle on his own.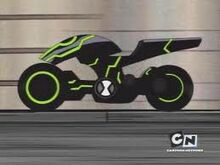 Appearances
By 16 year old Ryder
By 17 year old Ryder
By 18 year old Ryder
Ben 10,000 has access to Upgrade.
Metal Man is the version of Upgrade that appears in Dimension 23, used by Megaman. His circuitry is dark blue instead of green, and he morphs his left hand into razor edged circular saw blade on handles, to reference its namesake. Metal Man is the first alien form to be unlocked by Megaman.
Appearances
Upgrade is an alien in the Dueltrix. While he doesn't make a physical appearance, he is used in fusion aliens.
Dimension 0
This version of Upgrade is used by GIR, wielding cyan circuitry and Omnitrix color.
Upgrade is an alien form available to several characters in the series.
Trivia
Upgrade is the first alien to be a starter alien in two different series, being John's in John Smith 10 and Ryder's in Ryder 10.
See also
Ryder 10
Secondary Enemies
Bounty Hunters (Kraab, Goyle, Sixsix, Sevenseven, Eighteight, Vreedle Brothers) | Vulkanus (Crabdozer) | Seebik | Psyphon's Gang | Dr. Animo | Zs'Skayr's Followers (Viktor, Yenaldooshi, Mummy | Dr. Psychobos | Road Crew (Baron Highway, Road Rage, Fistrick, Corvo) | Spark Plug | Esoterica | Lucubra | Incurseans (Milleous, Jorgen Von Strangle)
Omnitrixes
Omnitrix | Nemetrix | Ultimatrix
John 23: Megaman
Main Enemies
Dr. Wily | Wily's Robots (BombMan, SwordMan, Yellow Devil, Punk, GridMan, GateMan, DrillMan, FlashMan, Colonel, LarkMan, KnighMan, Sniper Joe, BreakMan, TenguMan, KendoMan, CentaurMan, FridgeMan)
Roman Stardroids (Pluto, Mars, Mercury, Neptune, Jupiter, Uranus, Saturn, Juno, Venus, Ceres, Minerva, Diana, Apollo, Bacchus, Vulcan)
Bass | Dr. Regal | Treble | Baryl | Dr. Eggman
Omnitrixes
Omnitrix |

Prototype Omnitrix

| Nemetrix
Omnimania
Omnitrixes
Omnitrix (Ben, Megaman) | Prototype Omnitrix (Ryder, Jane, GIR, Looney John) | Dueltrix (Yami) | Mutatrix (John) | Nemetrix (Nails, Zed) | Ultimatrix (Albedo)