Ultimatrix (Jon's Dimension)
[[Image:|200px]]
Users:
Jon
Tech Level:
20
Type:
DNA changer
Creator:
Azmuth (Jon's Dimension)
Additional Information: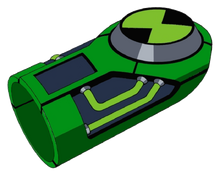 The Ultimatrix is a DNA changing device which Azmuth gives Jon in Jon's Dimension. This device allows him to change his appearance and transform into alien life forms.
Features
Transforms user into aliens
The users clothing is adapted into alien transformations
It has Life Form Lock
It has the Randomizer function
Has voice command
Known Aliens
Trivia
The Ultimatrix has all the aliens Ben prime does except; Eye Guy, Alien X, Jetray, Buzzshock, Bullfrag and Snare-Oh
The Ultimatrix can malfunction as will be seen in Ultimatrix Problems
As seen in Ultimatrix Problems, Jon's Ultimatrix can have Life Form Lock and Randomizer engaged at the same time, though this is a fault and can cause the Ultimatrix to explode
Community content is available under
CC-BY-SA
unless otherwise noted.