Ultimate Ripjaws is an Evolved Piscciss Volann in Ben 10: Stupidity Force. He is the third original ultimate to debut in the series.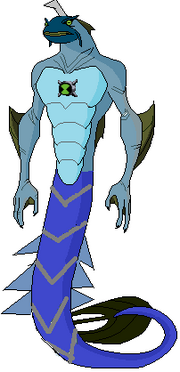 Appearance
Ultimate Ripjaws has a silver spike on his blue face, with a light purple body and a light blue torso. He has darker fins and an indigo tail with grey lines on it and spikes protuding from the top. The end of his tail has a spike on it.
Powers
Ripjaws' powers, and:
Stabbing people with his head and tail
Shooting the spikes on his tail
Doesn't need to always be in water
Growing his fins into spikes
Hydrokinesis
Controlling all aquatic things
Weaknesses
Too much heat
He doesn't have legs, but he slithers on his tail.
Appearances