Ultimate NRG is the evolved counterpart of NRG.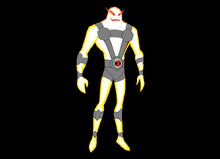 Appearance
Ultimate NRG is white in color and, similar to deevolved NRG, has a floating energy body.
Powers and Abilities
Ultimate NRG has immense strength, can withstand temperatures of up to 15,000 K and can generate metal to form a containment suit. He can propel himself using energy blasts to fly.
Ultimate NRG is strong enough to destroy a rocky silicon asteroid.
Weaknesses
Ultimate NRG's suit can't withstand higher temperatures than 5,000 K, as there is no material that would resist 15,000 K.
Appearances
Albedo
At Azmuth's College Aliens
Community content is available under
CC-BY-SA
unless otherwise noted.