Ultimate Diamondhead
General Information
Species
Evolved Petrosapien
Home World
Petropia
Body
Humanoid
Powers and Abilities
Abilities
Super Powerful Blast
Diamond Shots
Rock Float
Super Strength
Blast Back
Sharp Spinners
Grow 17 Meter Of Diamond (Ultimate Diamondhead Can Grow 17 Meters)
Diamond Duplication
Crystal Generation
Crystalkinesis
Intense Durability
Crystal Shard Projectiles
Explosive Shards
Crystal Weapon
Manifestation


Invulnerability
Near-Indestructibility
Ultraviolet Energy Projection
Energy Absorption
Regeneration
Flight
Ultraviolet Energy Forcefields

Details
Ultimate Diamondhead is evolved Petrosapien from the planet of Petropia. Ultimate Diamondhead also appears in Ambrose 10: Hero Generation and Ben 10: Protector of the Omniverse.
Appearance
In Ben 10: Ultimate Alien (Fan-Made), his head is similar to Rocks'. He is now too galactic black. The crystal is similar to Alien X, and his voice is similar to Four Arms and Ultimate Swampfire. His spike top of his foot is similar to Water Hazard.

Powers and Abilites
Appearences
Ben 10: Ultimate Alien (Fan-Made)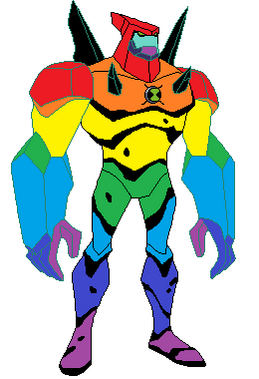 Community content is available under
CC-BY-SA
unless otherwise noted.