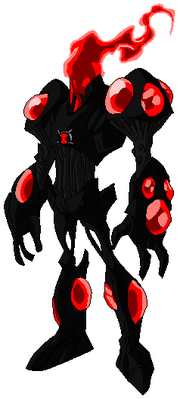 Ultimate Black Oak is an Evolved Aciculi-il
ignosa, thanks to an Omega Evolution Drive his Electric Sacs now Hold Umbreonic Plasma, along with that he is able grow Mushroom-like Cannons from the ground as well as Vines.
Powers
Dark-Ergokinesis
Energy Absorption
Harvesting Water from the air
Super Strength
Very Durable
Chlorokinesis
Sporakinesis
Able to regrow limbs and heal injuries.
Able to leech the life force of other beings.
Weaknesses
Slightly Slow
Overheating body.
Community content is available under
CC-BY-SA
unless otherwise noted.