Thrae is the planet of the Namuhs, and the opposite planet of Earth. It was first seen in the Simien 10:Space Race episode journey to the other dimension. Everyone on the planet is a opposite creature. The planet is made of Antimatter.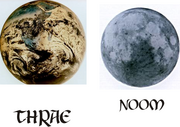 Inhabitants
Namuhs (opposite humans)
Doportsags (called by namuhs lianses) (opposite gastropods (snails))
Other opposite animals, like Tacs (opposite cats), Shif (opposite fish), Dribs (opposite Birds), Tnapheles (Opposite Elephants) and more.
Known Namuhs
Nella (part namuh)
Lacigol On Ket (Hcet) (Tech 10: Combalien Evolution)
Neb Nosynnet (Neb 10)
Newg Nosynnet (Neb 10)
Xam Nosynnet (Neb 10)
Den (Den -10)
Yrneh (Den -10)
Known Doportsags
Contidents
Acirema Thuos
Acirema Thron
Eporue
Aisa
Acirfa
Ailartsua
Acitratna
Notable Countries
Aissur (shown in the episode Presidential Problems of Den -10)
A.S.U. (Acirema fo Setats Detinu)
Notable Cities
C.D. Notgnishaw (the home town of Den and Yrneh)
Kroy Wen (was home town of Neimis, Nonyz and Sukrov)
Wocsom (shown in the episode Presidential Problems of Den -10, the capital of Aissur)
Kinrev Al (Home of Hcet)
Solar system, Moons and galaxy
Moon: Noom
Solar system: Metsys Ralos
Galaxy: Yaw Yklim
Appearence
The planet is shaped like a cube, opposing to Earth, that is shaped like a sphere
The ground has swapped places with the sea, making it color swapped
It is usually dark on this planet, since it's sun, Nus, makes darkness
Facts
This planet is filled with crime.
It is the 7th planet from the Nus.
It is made of Antimatter.
The inhabitants are polluting the garbage with nature as by-product. In the future, there may not be any filth left on Thrae.
Clash of the Villains contest
Battles
Vote here which villain will win in your opinion. DON'T VOTE FOR YOURSELF!