Thermosnap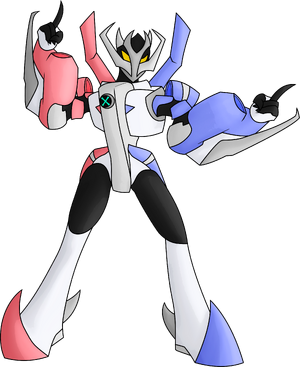 General Information
Species:
TBA
Home World:
TBA
Body:
Mechanical Humanoid
Powers and Abilities
Abilities:
Temperature Manipulation
Temperature Discernment
Temperature Immunity
Details
Classification:
Automata
Motif:
Thermometer
Thermostat
First Appearance:
Trial X Fire
Thermosnap is an alien from the series Tech Cross.
Abilities
Thermosnap has the ability to raise or lower the temperature of anything she touches, including the air around her. She can use this ability in focused areas to generate scalding heatwaves, freezing winds, and other various temperature phenomena.
If she uses enough power, she can even transfer things between states of matter, such as heating the air into plasma or freezing it into a solid.
Thermosnap is immune to most extreme temperatures and has the unique ability to assess an area or object's temperature down to the degree.
Weaknesses
Thermosnap's ability to control temperature directly isn't quite as flashy as fire and ice powers, despite being far more useful.
Titania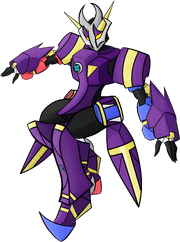 In her Titania form, Thermosnap's control over temperature affects things much faster and farther than ever before, allowing her to flash-freeze or flash-melt entire mountains. Her arm blades become much stronger and sharper, along with gaining the mechanics necessary to be retracted and deployed at will.
Appearances
Etymology
Thermosnap's name is a combination of the words "thermostat" and "snap".
Motif
Thermosnap is based on thermometers and thermostats, which can measure and change temperature, respectively.
Trivia
Thermosnap's general design is loosely based on the ASW-G-29 Gundam Astaroth from Mobile Suit Gundam IRON-BLOODED ORPHANS Gekko.
---
Tech Cross
Main Characters
Supporting Characters
Veritum - Malincious Crow