Are a pair of Galvan brothers in Ben 10: Hero of All Ages.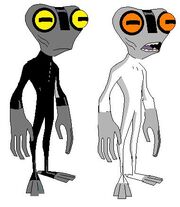 Stan
Stan is very smart and honest. He doesn't talk much. His eyes are yellow. He is the younger sibling by a minute. His skin is darker and he has a black suit on.
Powers
Intelligence
Agility
Mute
Sly
Weakness
Ly
He is very tough and agressive. He is a loud moth. Although he is one of the stupidist Galvan alive.
Powers
Sharp Teeth
Speed
Confidence
His loud mouth
Weakness
His loud mouth
Stupid
No strength
Community content is available under
CC-BY-SA
unless otherwise noted.