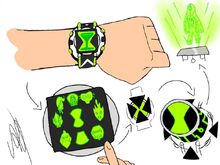 The Omnimatrix, referred to as the Omnitrix, is one of Azmuth's creations and the successor of the Ultimatrix.
Appearance
The Omnitrix resembles a wristwatch. Its faceplate is now square instead of round and has an hour glass with green scheme on top. The faceplate is black with the green hourglass, representing the intergalactic peace symbol, and it has DNA tubes next to the wristbands. It is activated by slightly shaking the Omnitrix, and it only responds to the user's touch. The alien grid pops up, and by sliding trough the aliens presented, the wanted alien is selected by touch, making the grid to be split in four parts and the Omnitrix's core is revealed.
Purpose
To promote inter-species understanding by allowing other beings to experience different ways of life and to serve as a repository for the DNA of over a million different intelligent species, preserving them in the event that any of them should ever be rendered extinct and restore them to life.
Modes
Features
Playlists
Active
Locked
Snakepit
Squidstrictor
Highbreed
Trivia
Due to the recalibration, The Omnitrix has lost access to all of the former aliens, but they were just locked, not removed.
Community content is available under
CC-BY-SA
unless otherwise noted.