Den 10:Prototrix Adventures
Season 1, Episode 1
Air date
23,12,2012
Written by
Ultrafan4
Directed by
Ultrafan4
Episode Guide
Previous
None
Next
Evil Chrismas
The Alien Device
is the first ever episode of Den 10 Prototrix Adventures.
Episode
It starts out in the Rustbucket,where Dennis is talking about the Omnitrix with Ben.
How many aliens can you turn with that thing?Said Den.
Um,10.And counting.Said Ben.
Were'd you get it?Said Den.
Few weeks ago,at the campsite that were going now.Said Ben.
Sudennly Vilgax attacked the Tennysons.
Surrender,Ben Tennyson and gimme your Omnitrix!Said Vilgax.
Ok. I'll give you this!
Ben slaps the Omnitrix and turns into Eye Guy.
Eye Guy:"Huh?I was going for Heatblast,but this will do."
Eye Guy shoots a laser at Vilgax.
Vilgax:"Uh!!!You think i will be destroyed by that?Fool!"
Sudennly a comet fell down at Vilgax.
Vilgax:"You will pay for this!!!!!!!!!!!"
BOOM!!!
Tennysons:"Whoa!"
Eye Guy slaps the Omnitrix and turns into Wildvine.
Wildvine stretches and stops the Rustbucket from crashing into the comet.
Wildvine:"UUUUhhh.......!
SSSSSSSSCCCCCCCCCRRRRRRRREEEEEEEECCCCCCCCCHHHHHHHHH!!!!
Dennis:"Ouch!"
Wildvine:"Fhew."
Reverts back to normal.
Ben:"Whoa!What is that !?"
Dennis:"I don't know,but LET'S CHECK IT OUT!
All:Whoa,what is it?
Dennis tries to touch it...
Prototrix jumps on Dennis' wrist.
Dennis:Waaa!(In Finn's voice)Get it of!Get it of!
Ben:"Relax dude,it just a watch that can turn you into aliens.
Dennis:"...!I got it!(Turns the dial and slams the Prototrix)
Saltshaker
:"Saltshak-what!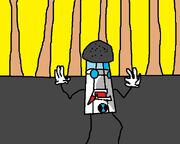 Ben:"Cool..."
Ben slams the Omnitrix and gets Heatblast.
Heatblast:"Let's roll...Whoa!(Slips on a puddle)
Sets the road on fire...
Saltshaker, Gwen and Grandpa Max:"Bennn...!!!
Ben:"Oops."
Saltshaker and Gwen uses their powers to stop the fire.
Saltshaker:"There.Done.
Fire countinues..
Saltshaker:"Aw man!Again?!(slams the Prototrix and turns into Aquaflow)
Aquaflow:"Aquaflow!Phui!There, no more fire."
Both of them reverts back to normal..
Dennis:"You shouldn't even started that fire!"
Grandpa Max:"Ooh..youve already caused enough trouble,and now you've caused more!"
Den,Gwen:"Run!"
Ben:"Aaahh!Den,Gwen,help!!!Ahhh!!!!"
Den:"Now thats gonna leave a mark."
Gwen:"Ha Ha Ha Ha!"
(1 hour later....)
Dennis:"I wonder how to work this thing."
(Pushes the button,dial pops out)
Dennis:"Hey!I figured out how to use this thing.Here!Wanna try?"
Gwen:"Ok.(slams the Prototrix and Den turned into Articguana)
Articguana:"Huh what alien is this?"
Gwen:"I don't know,why don"t you ask Ben?"
So Den ask Ben what did he turn he turn into,and he revealed that this was his future self's alien form...when suddenly...
BOOM!!!!
THE END?
Characters
Heroes
Villans
Aliens used
By Ben
By Dennis
Trivia
Eye Guy was the first ever alien to be used,due it is the creator's favorite.
Dennis discovers the Prototrix.
Eye Guy,Wildvine,Saltshaker,Heatblast,Aquaflow,and Articguana make their debuts in this series.
Community content is available under
CC-BY-SA
unless otherwise noted.