This is the version of Tetrax Shard that appears on Earth-68, the universe owned by Dioga beta. He appears in the John Smith 10 franchise and Ryder 10.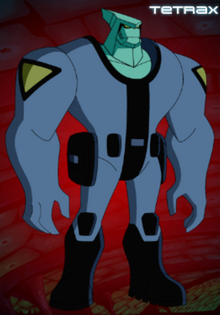 Tetrax appears similarly to his appearance in Ben 10. He's a bounty hunter attempting to prevent Vilgax from getting the Omnitrix. He gives John a hoverboard, and also allows Tetrax to scan him and unlock Diamondhead.
He appears again, having created a mercenary group called the Crystal Mercenaries. He assists in the rebellion on Naboo, and is killed defending Padmé Amidala.
Appearances
Tetrax is sent by Azmuth to retrieve the Omnitrix from Ryder. He stops his pursuit after Xylene convinces him otherwise. He then assists in fighting Vilgax.
Tetrax is a freedom fighter fighting in the Null Void, fighting against injustice. His primary enemy is D'Void.
Ryder 10
Secondary Enemies
Bounty Hunters (Kraab, Goyle, Sixsix, Sevenseven, Eighteight, Vreedle Brothers) | Vulkanus (Crabdozer) | Seebik | Psyphon's Gang | Dr. Animo | Zs'Skayr's Followers (Viktor, Yenaldooshi, Mummy | Dr. Psychobos | Road Crew (Baron Highway, Road Rage, Fistrick, Corvo) | Spark Plug | Esoterica | Lucubra | Incurseans (Milleous, Jorgen Von Strangle)
Omnitrixes
Omnitrix | Nemetrix | Ultimatrix