Swampfire
https://ben10fanfiction.fandom.com/wiki/File:Swampfire-1.png
General Information
Species
Methanosian
Home World
Methanos
DNA source
Unknown
Body
Basically a humanoid bloomed flower
Ultimate Form
TBA
Omni-Enhanced Form
Has none
Omni-Kix Form
Has none
Omni-Naut Form
Has none
Predator
TBA
Prey
TBA
Alternate Counterparts
Unknown
Powers and Abilities
Abilities
Chlorokinesis

Pyrokinesis Methane Generation Fertilizer Gas Generation Sleeping Spores Adhesive Mud Seed Generation Vine Generation Vine Tentacles Regeneration Elasticity Body Alteration Pyrokinetic Flight Gas Immunity Strong Teeth Enhanced Strength Enhanced Durability Enhanced Dexterity Enhanced Agility Enhanced Flexibility Enhanced Digging Enhanced Jumping Enhanced Speed Enhanced Stamina After Blossoming: Strength Enhancement Sentient Plant Manipulation Vine Whips Levitation Sharp Arm Blades Sharp Foot Thorns

Equipment
None
Details
Voice Actor
Dee Bradley Baker
First Appearance
TBA
Swampfire is the Ultimatrix MK3'shttps://ben10fanfiction.fandom.com/wiki/Ultimatrix_MK3 DNA sample of a Methanosian from the planet Methanos in Doppelgängerhttps://ben10fanfiction.fandom.com/wiki/Dopplegänger_(I_Want_A_Hippo_Series).
Appearance
A humanoid flower with a fiery color scheme
Transformation Sequence
Vines wrap around Albedo's limbs and fire blows over each limb turning it into a plant limb and then he transforms into Swampfire.
Powers and Abilities
Swampfire has the ability to ignite methane in his palms similar to a flamethrower. After his blossoming, he ignites methane from yellow holes in his palms. 
Weaknesses
Swampfire's swampy stench can make it hard for him to hide from anybody or anything capable of smelling.
History
TBA
Appearances
Etymology
TBA
Trivia
TBA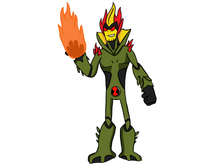 Gallery
Community content is available under
CC-BY-SA
unless otherwise noted.