Swampfire is the DNA sample of a Methanosian from the planet Methanos.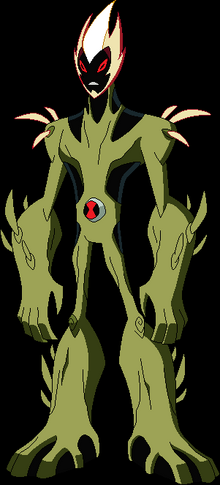 Appearance
Swampfire's appearance has changed to a brownish coloration, instead of light green, and his head is pale white instead of yellow, resulting into what's similar to a flower in August. He is slightly more muscular.
Albedo as Swampfire
He is the same, but with red eyes and Ultimatrix symbol.
Powers and Abilities
Swampfire has pyrokinesis, enhanced strength, durability, agility, chlorokinesis and regeneration.
As he assumed a new form, Swampfire's age allows him to reproduce and create stronger vines.
Weaknesses
Swampfire's new form gives him a disadvantage when needed to regenerate, as he is slower at that now.
Appearances
Albedo
Trivia
Swampfire got a new form in 2025-2026, when Ben accidentally transformed into Swampfire at New Year's Eye.
At Azmuth's College Aliens