THIS ARTICLE IS MADE BY EVFNYE!

Stinkfly is the Omnitrix's DNA sample of a Lepidopterran from the planet Lepidopterra.
Appearance
Stinkfly has an insectoid green body, but has humanoid hands. He has four eyes on antennae, and two light-yellow wings. His exoskeleton is gray, with the Omnitrix symbol on it.
Evfnye 10,000
Evfnye 10,000 as Stinkfly has much larger eyes.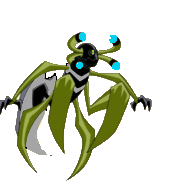 Powers and Abilities
Stinkfly can fly at high speeds, and is also fairly strong and durable.
He can shoot gas or slime from his four eyes. If something is filtered in his antennae eyes, he can shoot the upperstanding substance.
Stinkfly has a stinger on the end of the tail.
Weaknesses
Stinkfly can't fly if his wings are wet. Also, he can be hurt by his own gas if redirected.
Stinkfly's goo and gas is useless against Buglizard, his natural predator.
History
Stinkfly was unlocked prior to Evfnye 10.
In Caught, Stinkfly was thrown in a lake. He escaped using a stone and fought the killers.
In Sky's the Limit, Stinkfly tried to destroy the Cyrrothinian spaceship, thinking it was an asteroid.
In Memelord, Stinkfly searched for a way to exit from the computer and fought ten meme dentists.
In Do Not Answer Wrong, Stinkfly was used to land safely.
In The First Hero in History, Stinkfly appeared as an accidental transformation and used to reach Mesopotamia.
In The Spirit Part 2: Shocked, Stinkfly was used twice to try to reach Ketu's underwater base. He later appeared along with all other transformations.
In Zombie Medicine, Stinkfly spraid the cure for zombies that Stephanie Karlie gave him.
In Spiders Attack!, Stinkfly spraid a chemical that attracts Encephalonus IV's spiders.
In Trap Battle, Part 1, Stinkfly fought Sand Ripper until it switched to Buglizard.
In Just Like The Simulations, Stinkfly defeated Synapse.
Appearances
Trivia
When Stinkfly flies, his legs cover his tail.
References
Community content is available under
CC-BY-SA
unless otherwise noted.