Spitter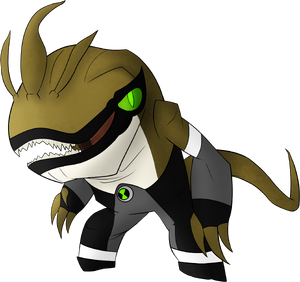 General Information
Species:
Spheroid
Home World:
Scalpasc
Body:
Bipedal Reptilian/Puffer Fish
Alternate Counterparts:
Spitter
Powers and Abilities
Abilities:
Slime Spit
Sharp Teeth
Enhanced Strength
Enhanced Durability
Equipment:
Omnitrix Uniform
Details
Classification:
Fauna
Voice Actor:
Dee Bradley Baker
First Appearance:
TBA
This is Ben Tennyson's primary version of Spitter that appears on Earth-83.
He is expected to appear in Ben 10: Milky Way Race.
Abilities
Spitter's abilities include:
Projectile Slime

Spitter has the ability to launch blasts of slippery, acidic, highly conductive slime at high speeds.

Blast Spitting

If Spitter exhausts his supply of slime, he can simply suck up a nearby liquid or gas and fire them from his mouth at high speeds.

Inflation

Spitter's body inflates like a balloon when he charges up a blast of slime.

Plasma Cannon

If Spitter charges his slime blasts long enough, the slime will compact into a fuel-like substance and ignite, creating a massive beam of plasma that can carve through a large asteroid like butter.

Enhanced Strength

Albeit not extremely impressive, Spitter is quite a bit stronger than the average human.
Appearance
Spitter is a stubby, round reptilian alien with brownish-green and white skin. He has a massive head taken up primarily by his mouth, which displays a row of jagged, slightly discolored teeth. He has three large, fleshy antennae jutting out of the top of his head. He wears a uniform consisting of pants and fingerless glove-sleeves. The Omnitrix symbol is on his torso.
Weaknesses
Spitter's Plasma Cannon takes a while to charge, making it practically useless in high-speed combat.
Trivia
Spitter's current color scheme was based on that of a puffer fish.
Community content is available under
CC-BY-SA
unless otherwise noted.