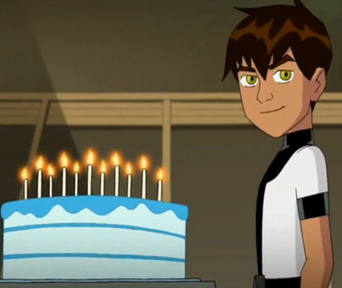 is a special of Noah 10 and Zero Hero dealing with Noah's birthday.
Plot
....
....
....
"What the heck? Why aren't I doing anything?" Noah asked.
Because it's my birthday and I'm tired!
"How did I get here?" Asked Zero.
SHUT UP!
"OK! OK!" Zero gasped.
So...Imma start narrating! Noah and Zero hugged each other.
"WHAT!?"
DO IT.
So they hugged.
"I'm hugging you...?"
"Um...me too...?"
After they stopped hugging, Noah transformed into Upgrade.
"Um...why?" Noah asked.
BECAUSE.
"OK...Upgrade...!"
Then Zero powered up to Upgrade.
"Me too? Aw." Zero moaned.
I can make you die right now...
"OK OK I'll go with it!" Zero yelped.
So...then Zero and Noah went to the moon.
"WHY!?" Complained Noah.
One more complaint and I kill you both.
"OK we're on the moon." Said Zero.
Noah and Zero walked around the moon thirty times because they were thirsty for mayonnaise.
"W--"
Nu-nu-uh.
"-_-"
Anyways, they finally came across a bottle of mayonnaise and drank it. After they were full of the expired since 1932 mayonnaise, they met a giant squirrel. The squirrel offered them a ride to Jupiter, which they gladly accepted.
"DUDE!" Zero cried.
"NO MORE, SOLO!" Said Noah.
...I am your God and if you yell at me one more time, I'll rip your throats out. Now where was I? Oh yes. They went to Jupiter and flew about the clouds. Since they were both Upgrade, the toxic fumes from the planet had no effect on them.
"Yay!" They both yelled.
But then they got blasted away onto Saturn's rings. Noah and Zero morphed into a ship and both flew off. They crashed on Pluto.
"YAY! The ninth planet!" Noah yelled.
"Um..Pluto isn't a planet..." Zero said.
....Noah, please kill Zero.
"I will."
"It's true though!"
NO! YOU LIE! LIARS MUST DIE!
Noah shot a laser at Zero and knocked him off of Pluto. Noah somehow ended up back on Earth at a Taco Bell.
Noah, for surviving longer than Zero, get me a taco.
"KK."
Noah gave me a taco and I ate it.
HAPPY ENDING. BAM.
"Um...I'm still alive!" Called Zero.
....IJDNUFGEFKAJUDKJ!
THE END!
Community content is available under
CC-BY-SA
unless otherwise noted.