This is the version of Skurd that appears on Earth-68. He appears in Ya-Mi-Oh! and Ryder 10: Wanderer.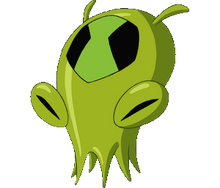 Skurd appears in an alliance with Aster Phoenix. The two, working together, exploit Kaiba Corp and obtain the Nemetrix. Skurd uses his abilities to absorb DNA to give Aster predator alien armor, so he can fight.
Appearances
Skurd appears as a travel companion to 17 year old Ryder. He feeds off the Omnitrix, assisting Ryder by using the DNA to transform. He is captured by Collectimus and forces Ryder to find the Map of Infinity in exchange for him.
Ya-Mi-Oh!
Major Characters
Yami | White Dragon | Leo | Luna | Ishizu | Crow | Aster Phoenix | Skurd
Secondary Characters
Pegasus | Police (Detective Trudge, Axel, Sergent Mina, Commissioner Viper, Kaz) | Joey | Mahad | Axel | Mokuba | New Enforcers (Jack Atlas, Jim Cook, Tyranno Hassleberry, Seeker) | Team 4 D's (Blair, Syrus Truesdale, Sherry LeBlanc, Zane Truesdale, Valon) | Asgard (Dragan, Halldor, Duke Devlin, Adrian Gecko, Sartorius, Sarina, Devack, Andre)
Frenemies
Arcadia Movement (Sayer, Aki, Espa Roba, Weevil, Rex, Mako, Bastion, Tania, Mai, Mindy, Bruno, Thunder, T-Bone, Leon, Chris, Dimitri)
Main Enemies
Zorc the Dark One | Diagon | Senator Izayoi | Doma (Dartz, Rafael, Camulla, Kalin) | Noah Kaiba | Marik (Dark Marik) | Yliaster (Jakob, Primo, Lester) | Broder | Meklord Emperors (Skiel, Wisel, Granal) | The D | Yubel | Earthbound Immortals (Ccapac Apu, Aslla Piscu, Uru, Cissu, Wiraqocha Rasca, Chacu Challhua, Ccarayhua)) | Rex Goodwin
Secondary Enemies
Gozaburo Kaiba | Big Five (Gansley, Crump, Johnson, Nezbitt, Leichter) | Officer Trudge | Dr. Roman | Dr. Zigzag | Esoterica | PaniK | Enforcers | Odion | Nightshroud | Shadow Riders | Princeton Brothers (Chazz, Jagger, Slade) | D's Gang (Hunter Pace, Syd Barlow, Trapper, Greiger, Lawton, Nicholas, Hans, Hermann) | Asgard Criminals (Misty, Mad Dog, Mr. Shroud, Titan)
Ryder 10
Secondary Enemies
Bounty Hunters (Kraab, Goyle, Sixsix, Sevenseven, Eighteight, Vreedle Brothers) | Vulkanus (Crabdozer) | Seebik | Psyphon's Gang | Dr. Animo | Zs'Skayr's Followers (Viktor, Yenaldooshi, Mummy | Dr. Psychobos | Road Crew (Baron Highway, Road Rage, Fistrick, Corvo) | Spark Plug | Esoterica | Lucubra | Incurseans (Milleous, Jorgen Von Strangle)
Omnitrixes
Omnitrix | Nemetrix | Ultimatrix
Community content is available under
CC-BY-SA
unless otherwise noted.