SkeleTon
General Information
Species
Fleshtoric
Home World
Spikesterama
Body
Humaniod
Powers and Abilities
Abilities
<----- In the Ability section
Details
First Appearance
N/A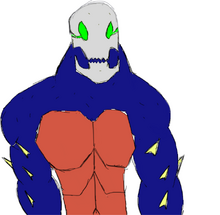 SkeleTon is an alien made by Joe but designed for this guy.
Use
Typically, SkeleTon is used for brawny nature but with some speed. He isn't the strongest or fastest but he has both speed and strength and so can be verstatile when in the field. 
Powers & Abilities
As you can see he is really buff giving him a lot of strength. He has enhanced durability. Since he weighs 1 ton he can sit on an enemy, killing them if he does so. The spikes on his arms are projectile. He can jump really high since the spikes on his feet work like padding. He can shoot lasers from his eyes and has a strong bite. By that I mean if he bites an enemy it will cause a lot of damage. He can remove his skull from his body and throw it at his enemies.
Weakness
He isn't that smart and isn't that fast. A human can barely out run him. When his head is detached from his body and the enemy captures the head, he wouldn't revert until the head is reconnected.
Trivia
His original name was Trollskull
Joseph made the photo by Jack made everything else, even the description of the photo.
He is not overpowered or underpowered
He origianally had claws but it was later scrapped.
His name is a pun on Skeleton referring to his face and ton reffering to his weight.
OmniCorp
Original Characters
Snax - Gunny - Rocky - Gup - Cake - Tech-I - Nelg - Marge - Scott - Tebb - Chandler - Ahsas - Seeryt - Lyrad - Kyle - Xione - James Roarin - Hulo Marret - Blake Howard - 2.0 - Rackot - Americana - Flitch - Verstinary - Axel - Big Tiny - Shalsh - Judith - Donstone - H2-W8 - Alfred Wellington - Mech - RQ48-B - Rammer - PH5 - Melk - PT-02 - Beditor - Preeco - Chuck Norris - Bruce Lee - Lauren Genare - Moon Moon -
Original Villains
Jadan - Dint - Tygaxx - Kobir - Yaglan - Mesvalur - Pyxlem - Ueviss - Eldirir Arewa - Nurmee - Improbe - Gertrude Tate - Syraxx - Rista - Dr. Stagnog - Cincirius - Fick Marts - Alissa Rutells - John Darklom - Liza Encloffen - Mike Brannigen - Drench Boyton - Malwarette - Kon - Imperial - Reboot - Trooper - Howler - Ricknot - Fedgemen - Calcora - Heinrik Feeflemeter - Prince Bron Redwind - Princess Zantanna Redwind - Princess Taya Redwind - Cansted - Richnee - Daloop - Jeckard - Tammible - Digous
Nemetrix Aliens
Boldersmash - Unknown Meowster Predator - Unknown Whiplash Predator - Unknown Terrack Predator - Unknown Scaline Predator - Unknown Sharknado Predator - Unknown Bloat Bug Predator
Species
Crata - Diamona - Contrainiod - TBA
Community content is available under
CC-BY-SA
unless otherwise noted.