This is the version of Sir George that appears on Earth-68, the universe owned by Dioga beta. He appears in the John Smith 10 franchise and Ryder 10.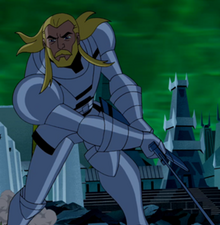 Sir George serves a very similar role at the beginning, returning with the freedom of the Lucubra, and the threat of Diagon. He unites the Forever Knights to fight them. He eventually teams up with John Smith, and he sacrifices himself to stop the Diagon. He is later revived by Phantom to fight for him, where John gives him a mercy killing.
Appearances
Sir George awakens to prepare to fight the Diagon. He steals the exterior part of Area 51, like in the canon series.
Ryder 10
Secondary Enemies
Bounty Hunters (Kraab, Goyle, Sixsix, Sevenseven, Eighteight, Vreedle Brothers) | Vulkanus (Crabdozer) | Seebik | Psyphon's Gang | Dr. Animo | Zs'Skayr's Followers (Viktor, Yenaldooshi, Mummy | Dr. Psychobos | Road Crew (Baron Highway, Road Rage, Fistrick, Corvo) | Spark Plug | Esoterica | Lucubra | Incurseans (Milleous, Jorgen Von Strangle)
Omnitrixes
Omnitrix | Nemetrix | Ultimatrix
Community content is available under
CC-BY-SA
unless otherwise noted.