Shakin' Shakes is, to an obvious point, a restaurant that serves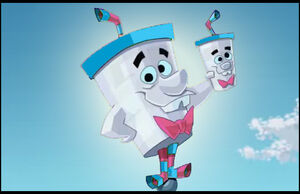 mostly milkshakes or "shakes" for short. Dill and his team are frequent customers.
Shakin' Shakes serves an exotic and sometimes strange assortment of flavors in it's milkshakes made to order and including flavors like "Peanut and blueberry", "Chocolate and peach", "Strawberry and marshmellow", etc.
Shakin' Shakes also seem to sell milkshakes for animals too, as they also make all-meat flavored milkshakes such as lamb and sardine. The establishment also sells milkshakes for insectivorous animals, proven when they revealed an all new "Grasshopper Milkshake".
Dill is infamous for drinking numerous amounts of them whenever he goes to Shakin' Shakes, drinking menagerie of flavors.
The franchise has only one outlet (so far) in Dill's home town. Due to the fact that Dill often frequents this business and gives it his unofficial endorsement, the franchise receives a lot of publicity and will even open for him after closing time.
Known Employees
Products
Shakin' Shakes, as the name suggests, sells a large quantity of milkshake flavors.
It is revealed that Shakin' Shakes also sell food like Chicken and chips, chilli fries and nachos with ketchum, mustard, salsa or any kind of dip.
The establishment also sells a kiddy meal that they call the "Shakin' Shakes Kids' Meal", which comes with a free Shakin' Shakes mascot action figure.
They also sell a sandwich with everything on it, which is titled "The Shakin' Shakes Super Sub".
Other than milkshakes, they sell juice and soda, but they mainly appear in the kiddies' meal.
Shakin' Shakes have recently adapted to selling ice cream.
Beverage Flavors
Juices and Soda
Apple
Pineapple
Orange
Guava
Grape
Portugal
Berries
Mango
Watermelon
Cherry
Carrot
Tropical
Milkshakes
Chocolate
Vanilla
Strawberry
Kiwi
Berries
Peanut and blueberries
Chocolate and peach
Strawberry and marshmellow
Banana bread
Minty Coconut
Avocado
Mango
Banana
Watermelon
Salted Caramel
Tiffin (Artificial)
IceCream
(mostly any normal ice cream falvors) with the exceptions of :-
Blueberry Cheesecake
Cherries Jubilee
Chocolate Almond
Cotton Candy
Creole Cream Cheese
Lemon Custard
Mint Chocolate Chip
Orange Pine
Wildberry
Quotes
"Raise the Shakes!"
"The place where the shakes are always shakin'."
Appearances
Trivia
Shakin' Shakes is Dill's main choice for a place to eat.
Shakin' Shakes also serve Coconut water or even normal water, if the customer does not want milkshakes, juice or soda.
Community content is available under
CC-BY-SA
unless otherwise noted.