Riptile-Raptile is a combo of Riptile and Raptile from Evan Billion. It is one of Evan's new 20. He is a Repfus from Dramp.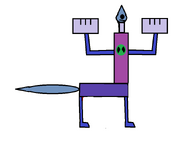 Appearance
He is purple.
His tail is circular with a point on it.
His head matches his tail.
He is a centaur-like lizard alien.
Powers
Stretching
Sonic booms
Levitating
Forcefields of sound
Bouncing
Flying
Tempestkinesis, controlling weather
Community content is available under
CC-BY-SA
unless otherwise noted.