THIS ARTICLE IS MADE BY EVFNYE!

Ripjaws is the Omnitrix's DNA sample of a Piscciss Volann from the planet Piscciss.
Appearance
Ripjaws looks like a humanoid greenish angler fish. He can unite his two legs into a tail. He has a "swimming costume" with the Omnitrix symbol on it. He has a glowing lure on his head.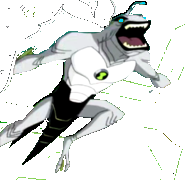 Powers and Abilities
Ripjaws is a very fast swimmer, and has underwater breathing and agility.
He has steel-bending jaws and very sharp teeth and claws. He also demonstrates superhuman strength and durability.
Weaknesses
Ripjaws becomes less powerful on ground, as he needs water to breathe. He can survive on air only for about 30 minutes. This weakness has been removed by Ketu, when he gave water tubes to Ripjaws after fixing the Omnitrix.
Even when using water tubes, Ripjaws can't walk very well.
History
Ripjaws was unlocked prior to Evfnye 10.
In Fight in the Bathroom, Ripjaws searched for the monster.
In 2040 Part 1: Past The Future, Evfnye 10,000 as Ripjaws defeated a robot.
In Memelord, Ripjaws appeared as a meme playing the Shark sound effect.
In Do Not Answer Wrong, Ripjaws battled Brian Minder.
In The First Hero in History, Ripjaws appeared as an accidental transformation and used to reach Mesopotamia.
In The Spirit Part 2: Shocked, Ripjaws was used three times to try to reach Ketu's underwater base. He later appeared along all other transformations.
In Raising the Steaks, Ripjaws accidentally appeared, and was used to swim away.
In 420, Ripjaws destroyed Cyborg Immortal Adhi.
In Trap Battle, Part 1, Ripjaws was locked and replaced with Crabclaw.
Appearances
Evfnye 10,000
Trivia
After Ketu fixed the Omnitrix, he gave Ripjaws a way to breathe on air, by using water tubes.
Community content is available under
CC-BY-SA
unless otherwise noted.