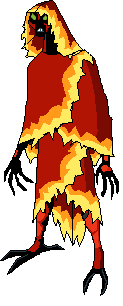 Ri'a is a Red Necrofriggian guard and the leader of the Red Necrofriggians in Stan 14.
Powers
Intangibility
Flight
Heat draining plasma beams (Ice flames)
Info
Ri'a is the third Necrofriggian to help Stan regain Big Chill. The first was the White Necrofriggians, the Second was King Bu, and fourth was the Red Necrofriggians.
Picture
All credit goes to Armodrillo Fan on DeivanArt.
Community content is available under
CC-BY-SA
unless otherwise noted.