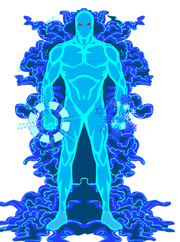 RexBlizzard is When An Azure Stone during his Omegabreak mode he is the coldest being in the universe.
Powers
Application
Divided into two groups depending whether they use Cold or Ice: ■ Using ability to manipulate cold in form of various attacks Freezing areas of differing sizes/shapes and/or objects for several effect: ■ Ice Beam Emission, Cold Blasts and Energy Whip for direct effects.
■ Energy Kick, Energy Punch and/or Weapon Infusion by surrounding their limbs or weapons in cold.
■ Freeze anything to atomic level making it fragile. 

■ Create, shape and manipulate ice at will, using Psychokinesis to animate/move/shape it: ■ Increasing the density of ice and thus it's hardness.
■ Elemental Constructs of Ice, including weapons, missiles, walls, armor or allies/servants.
■ Binding/imprisoning/stopping people/objects etc. 

■ Ice Surfing

Associations
■ Cold-proof skin and/or Thermal Resistance are both extremely desirable. 

■ Ice Mimicry for full-body treatment. ■ Certain aspects of Weather Manipulation.
Limits
■ Creation of Ice depends on the amount of moisture available, Dry areas make this harder or impossible.
■ Unable to control or manipulate water, except possibly slush. 

■ As with all cold/ice, is affected with abilities using Fire Manipulation and Magma Manipulation.
■ Vibrations are difficult (if not impossible) to freeze, as they cause the ice to shatter, making sound-based abilities a perfect counter.

Community content is available under
CC-BY-SA
unless otherwise noted.