Random Pixel Art Guy
is an unused alien that anyone can use.
I
created his pic because I was really bored. He appears in EBFA.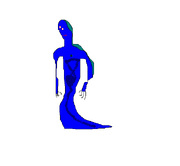 Appearance
He has a lot of appearances.
Omi's Appearance of RPAG
He looks like this weird blue guy with some blue color all over him.
Powers
Exploding into Japanese Beavers
Controlling yotabytes
Eating keyboards
His spit can melt through pickles
Summoning a plesiosaurus rolling on a tree made of candy and bouncing it off an escalator into Jupiter
Summoning a piece of pie fighting a boxer and making them fall down a bottomless pit on the fifth sun from the moon
Staring into your souls
Spamming
Creating pixel art
Tracking down pies
Locking any door or entrance
Trapping you in flashbacks
Controlling matter
Weaknesses
YOU ARE HIS BIGGEST WEAKNESS BECAUSE YOU ARE SO UGLY
Appearances
DON'T ASK ME
Evan Billion: F.I.N.D. Adventure
Pan Rum Licks Mole Fart Lie
Ok That Last Episode Was Too Long So I'm Gonna Try to Make This One Shorter Ok Now It's Just Even Longer Oh Gosh
Gallery
Trivia
Half of his powers are rip-offs lol.
Community content is available under
CC-BY-SA
unless otherwise noted.