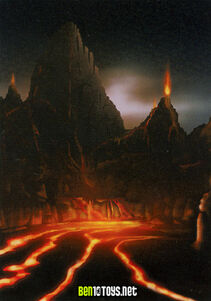 Pyros is the homeworld of the Pyronites (Heatblast's species), the Drageri (Baby Dragon's species), the Diergasii (Pyrant's species), and is a full-functioning hot sun.
Description
Pyros is a wide-open landscape of endless natural wonders: infernal plumes erupt miles into the atmosphere, and raging rivers of molten lava cut massive swaths across the fire-filled tundra. Magma based, all of its inhabitants are composed of a super strong flame-like energy. Drawing strength and nourishment from an almost limitless power source, this world's inhabitants are in need of little materials.
Notable Inhabitants
Series Appearances
The planet was mentioned in the episode, My Son, Diamondhead. Where Georgie said that he was going to take his son, Junior, and himself to that planet where they would live their new lives.
In the episode White Hot, Albedo was wreaking havoc upon the Pyronites. Noah had to go up there and take care of this little dilemma.
Pyros appears in the episode Inferno's Adventures Begin where Inferno was sent away from Pyros because Zs'Skayr took over the planet.
Ben 10: The Omniverse Wars
Pyros is part of the Pyro Region of the Omniverse in Ben 10: The Omniverse Wars.
Pyros appears in the episode Star Light, Star Bright. John, Gwen, Kevin, and Brago have special metal suits to protect themselves, and the force of gravity is much weaker than on Earth. Fire Salamanders appear, as an invasive species.
Ben, Gwen and Max visit Pyros and Galvan Prime in Can My Enemies Really Do That?.
Planetary Voyage
Pyros is one of the many planets visited by Evfnye.