PunkStriker has been a stub for a while!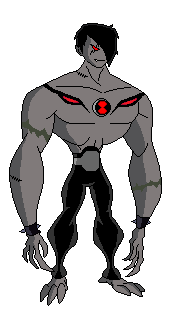 PunkStriker is an Necromarion he resembles a stereotype goth. He is an alien from the
Deltamatrix
.
Powers
Enhanced Strength
Enhanced Durability
Enhanced Agility
Sharp Claws
Can Climb on most surfaces
Bone Manipulation
Red Energy Projection
Invisibility
Weaknesses
He tends to be very apathetic, and usually has to be convinced or bribed into completing a task.
Most chemicals are able to make him visible.
Easily bored
Very Chaotic
Community content is available under
CC-BY-SA
unless otherwise noted.